A. B. Wilse was one of the most famous Norwegian photographers of his time. As a young man he emigrated to America, where he stayed for several years, before he decided to go back to Norway. The story that follows is from his book "En emigrants ungdomsminner" published in Oslo in 1936. When Wilse was traveling back to Norway in 1888, he boarded the S/S Geiser in New York. At that time he did not know, that he would soon be involved in a terrible accident, involving the Thingvalla Line ships S/S Geiser and S/S Thingvalla. The two ships collided off Newfoundland, resulting in the loss of 105 lives.
Home to Norway
In midsummer we had finished our work and were signed off in Minneapolis. (He had then been working for the railroad) These were not prosperous times in my line of work, and I decided that I would go back to Norway to spend the winter there, and return in the springtime.
I bought a ticket for Kristiania, and was scheduled to travel on the Geiser, one of the Thingvalla Line ships. With my trunk packed with my collection of souvenirs - Indian stuff among other things, actually all of my gear except my camera, I settled myself aboard the Geiser, which was lying in Hoboken. On a peaceful, quiet day in August Geiser sailed off, with 110 passenger on board. Most of the passengers were people who where used to a roaming life, and we soon became like a huge family.
The first day passed, and we had a wonderful evening with calm seas, and a beautiful sundown. A lot of whales where tumbling about near the ship. On deck, there was dancing to the tunes of an accordion. Everything was happiness and joy - because of the moment, and the thought of where we where heading. On board there were not less than 4 captains going home on leave, there were also some teachers, businessmen and farmers. As the evening got later, one by one they went to bed, full of joy and happiness over having had such a nice evening. Sadly, many of them would never again be able to enjoy these moments in their lives.
At dawn, about four in the morning, we suddenly felt a strange blow to the ship. It was as if we had hit something that gave away. The alarm was sounded throughout the corridors: "All men on deck!" - As I felt that something serious was happening, I got into my pants and, grabbed my vest and shirt, not bothering with putting on my boots. I ran up on deck.
The visability was good, and not far away from us I saw another steamship. It was the old "Thingvalla"! - I came up a little aft of midships, and I understood that something very serious had happened, because the rail was smashed, and the water was pouring in over the deck. Geiser was now laying heavy in the water, not more than 3-4 feet from the deck to the waterline. It would not take very large seas before they would be over the deck. The sea was calm so that did not happen. I went further aft, to where the ship had been damaged. There, I stepped on some of the sharp iron splinters, and cut my foot. It is a wonder that I did not fall into the 12 foot hole where the bow of S/S Thingvalla had cut into the hull.
Just after I went aft, I was thrown on the deck by the increasing seas. As I struggled to get back on my feet, I had to let go of my shirt and vest, where I had all of my money. To search for it was useless.
I saw that there was someone working with a lifeboat, up on the deck over the engine. I climbed up to help loosen it, and get it on the water. The first thing we had to do was to loosen the tarpaulin, which had been tightened to the boat with artistic fastenings. Fortunately, I had a large folding knife in my pocket, so I managed to cut loose the ropes. When we got a closer look in side the boat, we found that it was filled with all kinds of stuff, like buckets, ropes, pieces of wood, and lifebelts. After we had managed to empty it, we tried to lift it off the wooden blocks, where it was resting. There were four men to pull the boat - among us 2 captains and one of the sailors, but there was no use because the wooden blocks and the boat had been glued together by many coats of paint. The boat might as well have been nailed to the blocks. There was nothing else to do but to cut the tackle ropes, hoping that the lifeboat would loosen if the ship went under.
In a hurry, I took on one of the lifebelts, which was made of cork wrapped with canvas. It was so decayed, that I could stick my hand right through it. I had just managed to cut the last rope, and put my knife back in my pocket, when Geiser went down stern first. I just got hold of one of the ribs in the bottom of the lifeboat. We went down "in the big drain" [vortex] from the sinking ship. There was a tremendous rumble and noise, as if you were standing under a roaring waterfall - and with my eyes open I saw that there was less and less light, and it became quieter and quieter. Then I thought it was time to get to the surface. With help of the cork belt, I rapidly went upwards, in spite of this, I almost opened my mouth twice. Some water had pressed in through my nose while going down. Encouraged by the increasing light, I managed to hold out, and came to the surface just as I couldn't hold my breadth any longer. To my good fortune, there was another cork belt floating just where I came up. I just had to reach my arm out and then I had two belts to keep me floating. I was lying just gasping for a short while, filling my lungs with air. Then I discovered a plank near by me, and swam over to it. I then saw the third mate struggling to keep afloat - he was dressed in full seaman's gear - I swam over to him and we could then rest, listening and watching to what was happening around us.
There was a lot of screaming and moaning, and we saw many heads breaking the surface just to go down, never to come up again. The worst site we saw was S/S Thingvalla steaming away from us. What use had it been to fight for our lives, when, in a while we would die because of the icy cold water? - The collision had happened off Sable Island, near the Newfoundland banks, where icebergs melt.
S/S Thingvalla had moved away as a precaution - though legally far away - to avoid dragging the survivors into the propeller. After waiting approximately one hour they came to rescue the survivors. There was a woman already In the boat I was picked up in, - the only woman that was rescued from the S/S Geiser. She had lost her two children. When I was picked up, I rolled over in the bottom of the boat like a jellyfish. I was totally exhausted from the loss of blood through the wound in my foot, and from the long time in the icy cold water. After a little while, when I became myself again, I sat up to look around, I found my self face to face with the woman. She was a terrible sight. Her face white as chalk, with a pair of empty, starring eyes, and her hair tangled, hanging down. She had gone mad - which was not so strange.
On the lifeboat, that I had been working to get loose, and which had been my rescue on the way down in the deep, there were now sitting 12 persons - among them the captain - in safety on top of the hull. When all the survivors had been picked up in the boats, there where only 31 left of the Geiser's 149 passengers and crew.
When we approached the S/S Thingvalla, we could see the damage to the ship. The bow was cut away, to a depth of 12 feet, from 8 feet under deck. The damage stopped 2 inches from a waterproof bulkhead.
We were taken onboard, where there were all ready 350 passengers. My wound was bleeding badly and I was taken to the hospital on board, which was in the front just by the hatch leading to the hold. The crew was working hard to strengthen the bulkhead which would determine if the S/S Thingvalla would float or sink. It was certainly not cheering me up to hear the captains orders to the crew, to bring a log here, and a log there, to keep the water from breaking in. I was so weak that if the Thingavalla had gone down, I would not have been able to get out of bed. I was in a cold sweat where I was laying.
Fortunately it ended well. The sea was calm, and with good treatment and a good "bandaging", I soon came back to health.
In the afternoon a German oceanliner, the S/S Friesland, came into sight. Our hopes rose and the mood lightened from this, and after negotiating it was arranged that the passengers from both the Geiser and the Thingvalla could be transferred to the Friesland, which was on it's way to New York. At twilight we were all transferred onboard the now overcrowded ship. She was carrying mainly polish Jews with a lot of children.
So I was on my way back to New York again - all my belongings gone, except for my underwear and trousers with 60 cents in the pocket. The captain loaned me a shirt, which was so wide that there was room for another person in it. I borrowed a hat from the stoker, which was so greasy that when I coincidentally laid my hand on it, it stuck to my hand. I borrowed a scarf from a Danish emigrant. They all gave something - not of their abundance - but of their desire to do something for their fellow man. I will for ever be thankfull to these people.
Fortunately we had good weather back to New York, but we were freezing during the nights, which we had to spend up on deck. We took turns standing over the engine room to heat us up. From varying between being cold and warm I caught a such a bad cold that I lost my voice.
Wilse goes on to tell that they had no food to eat, and that the treatment they received on the S/S Friesland was scandalous. After three days on board Friesland Wilse arrived in New York. Wilse and some of the other surviving passengers from Geiser wanted to sue the company to get compensation for their losses. As a result, they had to stay in New York for 14 days, just to learn that the company would not give them any compensation. The company claimed that the Geiser had caused the accident, and the mate responsible had drowned in the accident. The survivers were not even given a new ticket. Wilse at last got back to Norway again, on borrowed money. He said that the crossing was not a pleasant one after what he had experienced on the Geiser.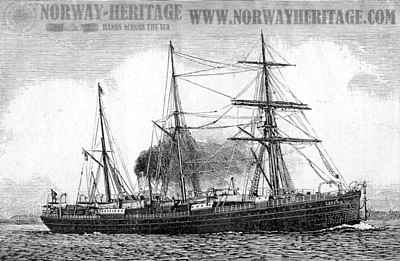 Geiser, Thingvalla Line steamship
Support Norway Heritage: Purchase a copy