Chapter 2:
By Sue Swiggum & Børge Solem 1999-2007
Canadian Records (1865-1935)
Canadian passenger records - (1865 - 1935), St. Albans lists (1895-)

Prior to 1850 most Norwegian ships headed for North America sailed to the port of New York. From 1850 to about 1854, more and more ships sailed to Quebec. In 1855, only the bark Kong Sverre from Bergen set sail for New York, while the other Norwegian emigrant vessels sailed to Quebec. There were several factors behind this, but the revoking of the British Navigation Act in 1849 was an important one. The revoking of this act made it possible to return home with lucrative cargoes. Another contributing factor appears to have been that the authorities in Quebec were not so particular about the number of passengers on board foreign ships. This made it possible for the shipping companies to carry a greater number of passengers to Quebec than they could to New York. Quebec took over as the main point of entry for Scandinavian Immigrants. Sailing ships would carry emigrants westbound, and timber eastbound, so they were able to offer cheap affordable fares.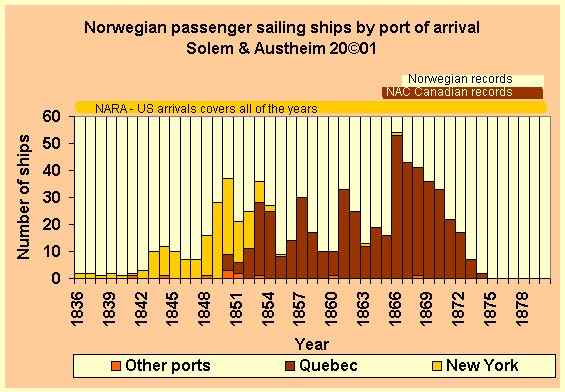 As you can see from the diagram, the change from New York to Quebec as disembarkation port happened quite fast. The unfortunate thing about this is that the National Archives of Canada [NAC] did not begin the archiving of passenger lists for the port of Quebec, before in 1865. Other Canadian ports began archiving even later ~ Halifax, Nova Scotia - 1881 and Saint John, New Brunswick - 1900. There are no surviving records prior to this dates. This means that for the great majority of the Norwegian emigrants between (1850) 1853 and 1865, there are no existing passenger lists. See "Pre-Archiving", below.

From the beginning in the 1860's Norwegian Emigrants were also taking Wilson Line ships to Britain and taking Steam Ships from Liverpool or Glasgow. Most of these passengers also arrived at Quebec or Halifax, well into the 1900's. There were excellent rail connections from the Canadian ports to the US Mid-West.

British Passenger Act of 1828.

The Canadian arrival film(s) contain passenger lists for ALL arrivals to each respective port, and appear on the film in order of arrival at that port. Apart for a few exceptions (discussed below), they are NOT indexed.

All Canadian microfilm reels are available by Inter Library Loan [ILL]. Inter Library Loan [ILL]. The Latter Day Saints [LDS] Family History Centers [FHC], have copies of the earliest Canadian arrivals ... details below.

If you already know the ship name and arrival date, you are also able to request photocopies of the passenger list from the NAC. You will find details of how to submit a request, by mail, email or by Fax. The Record Group which you need to quote is ______ RG 76 _______

The National Archives of Canada has now provides access to passenger lists for the ports of Quebec (1865-1921), Halifax (1881-1912, to 1922 shortly), to Saint John (1900-1912), North Sydney (1906-1908), Vancouver (1905-1912) and Victoria (1905 to 1912) as scanned images. The lists are organized in a database by port and date of arrival. The database is not searchable by name of passengers, only by ships: Passenger Lists, 1865-1922 Search

Passenger List Film: A complete listing of all available microfilms or Canadian Arrivals, arranged by port and date.

For the years 1919 to 1924, a Form 30A record was kept (details at the above URL). Form 30A reels do not contain records of those passengers proceeding directly to the United States.

The Record: The passenger lists for the sailing ships contain either a little, or quite a lot of information. The least to expect is the name(s) of "head of household" only, with check marks indicating the numbers and sex, and age grouping of the other members of the party. The most you may expect to find is the full names and ages of all family and/or group members, their place of origin, and in a few cases, their destination. You may also find notes about the birth or death [and date] of an individual. Most lists do have the names of everyone listed though, and you will usually find them listed with patronymic name and often their "farm-name". With a few exceptions, you will not find the lists to be uniform in their content.


This is an example of how the Quebec lists may look like, but there are great variations. This is one of the better lists concerning the amount of information included. It is for the Askur arriving Quebec from Drammen in 1866
-------------------------------------------

The passenger lists for steam ships were created by British pursers and their knowledge of Norwegian naming practices was limited. For this reason you will usually find all family members listed with the patronymic name of the "head of household". You will not always find the farm/family name. Until approximately mid-1990's, all passengers who were not of "British Birth" are found designated as "Foreign". For the passengers planning on staying in Canada, you will find more information than for those proceeding directly to the United States. The record(s) for US bound passengers may only include, name and age ... occasionally occupation and/or destination.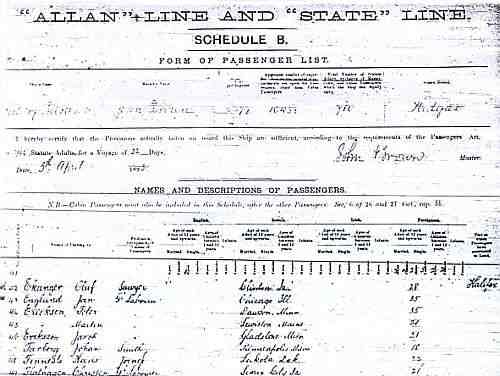 This is an example of how the steam ship passenger lists looked like in 1893. The condition you see on the scan, is pretty much what you should expect from the films. This fragment is from the list of the S/S State of Nebraska arriving at Halifax from Liverpool in March 1893
There are US records of passengers arriving at Canadian ports, who then entered the US through a Border Entry Port such as Buffalo, records beginning in 1895. These are called the "St. Alban's Lists", and below, you will find information pertaining to these lists.
Indexed records: There is an old nominal card index, of questionable accuracy, for Quebec arrivals 1865 to 1869. Each index card provides name, sometimes age, name of ship, date of arrival at Quebec and the reel number on which that list appears. When consulting the index, beware of spelling variations and misfilings.
The is a database containing information on 33,026 immigrants whose names appear in surviving records of the Grosse-île Quarantine Station between 1832 and 1937, many of them Norwegians who were hospitalized or died there: Immigrants at Grosse-île Search
LDS records of Canadian Arrivals: The LDS have copies of the earliest archived records for the ports of Quebec and Halifax only.
Port of Quebec: Film # 0889440 to 0889467 for the years 1865 to 1899
Port of Halifax: Film # 0889429 to 0889439 for the years 1881 to 1899
Pre-Archiving: Marj Kohli, from the University of Waterloo, in Ontario Canada, has provided some priceless information about "Immigration to [and through] Canada", at her website: The Voyage. Scroll down to "Norwegians". Of special interest is the report of 1853, as it contains routes and fares to the US from Quebec and Montreal. There is a lot of good reading at Marj's site.
St. Alban's Lists:
In addition to the Canadian ship list, there should also be a US record in the immigration records at the US National Archives [NARA] called the "St. Albans Lists." The St. Albans lists are actually several publications. The two of interest to you are given below with the NARA publication number (i.e., M-1461). The same records are also available by the LDS Family History Centers, but they use a different publication number.

You would want, first:
M-1461 Soundex Index to Canadian Border Entries through the St. Albans, VT, District, 1895--1924. M1461. 400 rolls. (Roll 218 not used). 16mm.

This is a Soundex name index to entries at all the ports along the Canadian Border and the Great Lakes. The record will be a card record with either a lot or a little information (usually, a lot!).

You'll also want to see:
M-1464 Manifests of Passengers Arriving in the St. Albans, VT, District through Canadian Pacific and Atlantic Ports, 1895--1954. M1464. 640 rolls. These are actually big sheet manifests, like for ships, but they were filled out when the immigrant entered the US through a border port like Port Huron, Buffalo or Chicago. These records are filed first by DATE (month), then by PORT (border port), then by SEA PORT (Quebec, Montreal, Halifax, Saint John). These records contain MUCH more information than the Canadian Passenger Lists. They also give the address and the people who were left behind, with the relationship to the Immigrant, they give the name address and relationship of the person the Immigrant was going to, in the US. You will also find out the height, eye color and hair color of your Immigrant.

Hunting Passenger Lists - read more >>

- Chapter 1: Emigration Records - Sources (By Børge Solem & Trond Austheim)
- Chapter 2: Canadian Records (1865-1935), (by Sue Swiggum, Trond Austheim & Børge Solem)
- Chapter 3: Searching the Canadian Immigration Records Database (by Annette Fulford - 2002)
- Chapter 4: US arrivals - Customs Passenger Lists (by Sue Swiggum, Trond Austheim & Børge Solem)
- Chapter 5: Port of New York Passenger Records (By Jo Anne Sadler, 2003
- Chapter 6: Norwegian Emigration Records (By Børge Solem)
- Chapter 7: The British Board of Trade outbound passenger lists (By Debbie Beavis)