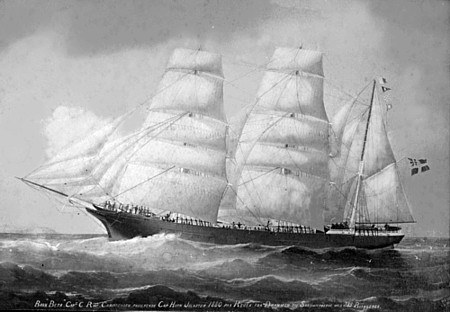 Picture of Beta at Christmas eve. just past Magelan.
The picture was submitted by Walter Rist-Christensen descendant of captain C. Rist-Christensen
Jack M. Johnson in Danville, California, has provided the following information about these ships:
1. The Norwegian bark "Beta", 846 tons, sailed from Drammen for Hawaii, October 27, 1880. Its master was Captain C Rist-Christensen, and it carried 327 adults, including 49 married people and 69 children aged 12 and under.
2. The German Bark, "Musca", ~700 tons, sailed from Drammen for Hawaii, November 23, 1880. Its master was Captain D.W. Oltman, and it carried 237 passengers, including 29 marieds and 57 children 12 and under.
Jack has the passenger lists for both ships. His gr-grandfather, Nils Emil Aars, sailed on the Beta and kept a diary which can be located in the Seaman's Museum in Oslo, he also keeps a copy him self.
---
The Norwegian emigration to Hawaii
by Haakon Bjerke
There were about 600 Norwegians who emigrated to Hawaii, the main harbor for this organized emigration was Drammen. It was planned and executed by Hans L'Orange. L'Orange was commissioned by the king of Hawaii (King Kalakaua) to bring the Norwegians to the island. L'Orange was a Norwegian plantation owner in the islands.
The ships "Beta" and "Musca" were commissioned to bring the Norwegians over, the ships sailed from Drammen harbour in the early 1880's. The Norwegians were promised good work on the sugar plantations. They went mostly to the island of Maui. However, when the Norwegians came they were shocked to find out that the labor contract they had signed in Norway, which was written in Norwegian was fundamentally different from the contract they were presented in English on their arrival in the Hawaiian islands (at that time: The sandwich islands).
The Norwegians had signed a four-year contract as plantation workers. This experiment by having the Norwegians employed as plantation workers was not successful enterprise. The plantation owners soon found out they could not whip the Norwegians as they had previously done with the Asians. Soon, strikes flourished and the jails were filled up with Norwegians.
The Norwegian emigration to Hawaii was a failure, as soon as their four-years contract expired the majority of the Norwegians left for the US mainland to places like California, Minnesota and the Dakotas; there were only then a small number of Norwegians who remained in Hawaii.
Although the emigration to Hawaii was a failure, the Norwegians who stayed left a lasting legacy. I have, in my 20yrs living in Hawaii, met a number of Chinese, Japanese and Polynesians who are immense proud they have parts of Norwegian ancestry.
Presented here with the kind permission of Haakon Bjerke (living in Honolulu, Hawaii)
The Musca passenger list has been transcribed and can be found online at the ISTG web site and the Digitalarkivet. You should note that there are a few differences between the transcriptions on the ISTG and the Digitalarkivet.