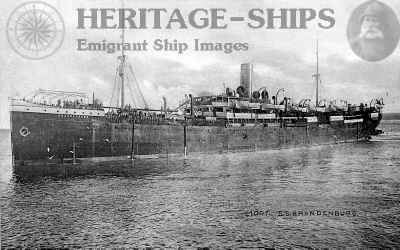 Brandenburg, Norddeutscher Lloyd steamship
Support Norway Heritage: Purchase a copy
The awning deck steamers of the "Köln" class which were built for the Baltimore and Galveston lines. The steamers of the "Köln" class which comprised the "
Köln (2)
", "
Frankfurt (2)
", "
Hannover (2)
", "
Cassel
", "
Breslau
", "
Chemnitz
" and "
Brandenburg
", represented a type which corresponded with the particular requirements of the service for which they were built. Whilst possessing but limited cabin accommodation, they had ample space for the conveyance of a large number of
steerage
passengers, and for the transport of large quantities of grain and cotton. The steamers were 136 meters long, 15 meters wide, 13 meters deep, and had a carrying capacity of 8,850 tons. They could accommodate 50 cabin, and about 1,600 steerage passengers. The arrangements for cabin passengers were very comfortable, the sleeping accommodation being in no way inferior in point of comfort to that on the express steamers. The arrangements for the steerage passengers had also received particular attention. Apart from the lofty sections having large and numerous ports with ample light, there were in two sections of the main deck, outside cabins for 4 to 10 persons. For the expeditious handling of the 11,000 cubic meters of cargo that could be stowed away in the ships, there were six hatches with ten steam winches and 18 derricks. The machinery consisted of two sets of
triple expansion engines
of 3,300 indicated H. P., capable of giving a speed of 13 knots. In order to render these steamers suitable for the transport of troops they had been provided with the necessary arrangements in accordance with the experience gained during the China expedition.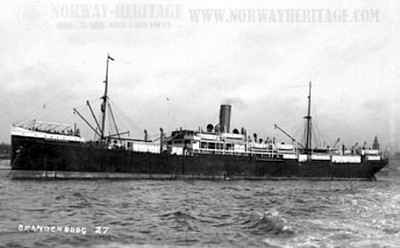 Picture of the S/S Brandenburg
, from an old postcard
Support Norway Heritage: Purchase a copy