Year
Departure
Arrival
Remarks
1863
June 18, launched
1863
July 8, maiden voyage Glasgow - Quebec - Montreal
1863
Nov. 14, first (winter) voyage Glasgow - New York
1864
Capt. Campbell was washed overboard and lost during a gale, while going to the aid of a lady passenger.
1869
December, commenced a single voyage Glasgow - Palermo - New York - Glasgow
1870
1870 - 1873, sailed Glasgow - Moville (Ireland) - New York
1871
Glasgow
New York
Aug. 19
Agent Henderson Brothers, Christiania
1871
Glasgow
New York
Sept. 29
1873
Jan. 29, wrecked on Isle of Arran, Scotland
The information listed above is not the complete record of the ship. The information was collected from a multitude of sources, and new information will be added as it emerges
The Britannia was an iron construction with clipper stem, one funnel, three masts (rigged for sail), a single screw and a service speed of 10 knots. There was accommodation for 40-1st, 90-2nd and 300-3rd class passengers.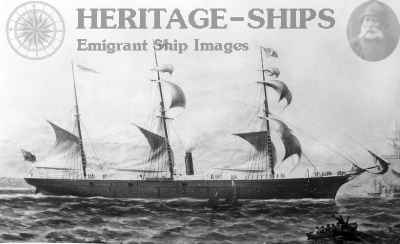 Picture of the S/S Britannia
Support Norway Heritage: Purchase a copy
BRIT0