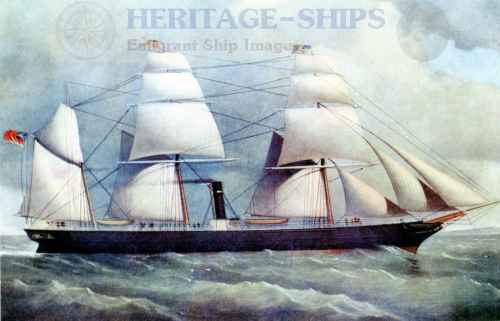 City of Glasgow, Inman Line steamship
Support Norway Heritage: Purchase a copy
This picture of the City of Glasgow was printed in the Gleason's Pictorial in October 1851, in connection with her first arrival to her new home port of Philadelphia after having been purchased by the Inman Line. At the time she was commanded by Captain R. B. Mathews. According to the corresponding text she was the pioneer of the direct line of steam communication between Philadelphia and Liverpool.
"The arrival of the "City of Glasgow," at Philadelphia, for the first time, was made the occasion of not a little rejoicing, and the "City of Brotherly Love" was, for once, startled out of its own quietude, and a gala day reigned throughout the city."
"What a revolution has been brought about in commerce, through the means of these immense traverses of the deep! Time and space are annihilated, and one goes to sea with as much actual comfort, and surrounded with as many luxuries and elegances as greet him in the most princely mansions at home. Ten days from land to land, across that immense watery waste, the Atlantic, what a miracle! Never stopping, never weary, no sails to set or take in as the weather threatens, no reefing as the gale increases, no disappointment at not being able, for want of a fair wind, to lay her course, but her ponderous engines are steadily at work, day and night; they heed not the gale, but bear the stout hull through the fierce head sea, and toss the resisting waters heedlessly on either side. How responsible is the situation of a single mind that controls all this immense fabric, the calm authority that emanates from the quarter-deck!"
"See the rough, old sea dog, that coolly surveys the scene! A hundred lives are under his charge; a million of dollars in property is entrusted to his care! One word of his stops that ponderous machinery; a single command changes the entire course of the floating palace beneath his feet."
[Gleason's Pictorial - Boston, Saturday, October 11, 1851]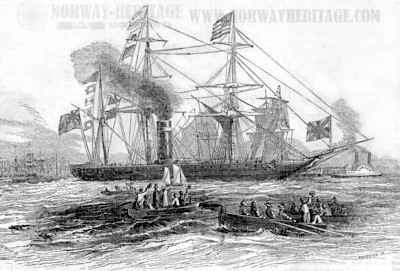 Picture of the S/S City of Glasgow
from an old engraving
Support Norway Heritage: Purchase a copy