* According to an article in the New York Times in July 1874 her new dimensions were as follows : Length over all, 377 feet ; breadth of beam, 40 feet; depth of hold, 25 feet ; gross tonnage, 2,885 tons , builder's measurement, 2,806 tons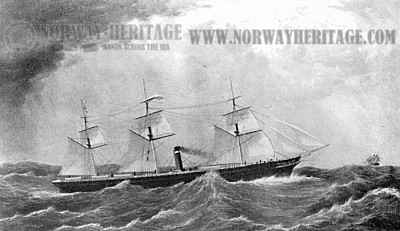 S/S City of Washington
Support Norway Heritage: Purchase a copy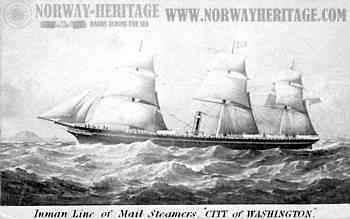 Picture of the S/S City of Washington
Support Norway Heritage: Purchase a copy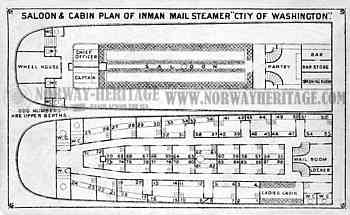 S/S City of Washington, Saloon and Cabin plan
Support Norway Heritage: Purchase a copy
Details: clipper stem, one funnel, three masts (rigged for sail - bark), iron construction. She hada single screw and made a speed of 10 knots. In November 1864 she was reconditioned and fitted with new boilers after having completed 63 North-Atlantic round voyages. In 1869 she was rebuilt to a length of 358 feet and her new tonnage was 2,870 tons. On June 5th 1869 she commenced her first voyage after alterations from Liverpool to Queenstown (Cobh), Halifax and New York. Her new engines fittet in 1869 had two cylinders, 48 and 84 inches in diameter, with a stroke of about 5 feet. Her horse-power was 450. She had four decks and was divided into four water-tight compartments. She was well supplied with boats and life-saving apparatus.
The grounding in 1874
She left Liverpool for New York on June 24th, mastered by captain William Robert Phillips. On June 24th, she called at Queenstown and set out on the Atlantic crossing. At 1.15 p.m. on the July 5th she went ashore on the reefs off Little Point Ebert in the County of Shelburne, on the coast of Nova Scotia. The accident occurred in broad daylight, near the main land and in fine weather, the boats were promptly lowered, and the passengers and crew, amounting in all to 576 persons, were safely landed.
Adrew N. Andersens account
In 1873 Andrew N. Andersen Nordhagen emigrated to America and crossed the Atlantic ocean on ship of the Inman Line. On the 7th [!] day after they had left England and come to the Newfoundland banks, the ship struck an underwater rock so that water leaked in, and the emigrants were ordered to go into rescue boats in order to save lives if possible. It was fortunate then for all that they came to land and were saved; but there they had to stay for five days before some ship could come and bring them farther. Worst it was with the food, as they did not get anything to eat than dried beef and crackers 2 times per day. When leaving the place they had to walk for half a day to a small port called Lakeport, where they went on board a wood schooner which brought them to Halifax. There they got food and drink, as well as a kind of shelter, so they did not have to sleep under the open sky. From Halifax they went to Portland, Maine, where they went ashore. From there the journey continued by railroad in the so-called boxcar like those used for transporting animals to the market.
The reason for the ship's misfortune on the Newfoundland banks was drunkenness, says A. N. Andersen. The captain was sick so he had to stay in bed, and the ship's mate was responsible for keeping the right course; but he got drunk every day without having some thought that the ship could come into a dangerous sea.
An old Norwegian sea captain who was along on the ship as a passenger, told the emigrants after the misfortune that he did not have sleep the last two nights he was on board the lost ship, and the last night he went with all calmness to the ship's mate and asked for a conversation. He then asked the ship's mate if he knew where he was, and he replied that yes, he knew it well. The Norwegian captain then suggested to reduce the speed and to alter the course, as they were in dangerous waters. But this made the ship's mate angry. He told the Norwegian captain to leave, and that he knew his occupation and did not want to be instructed. Though, it turned out that the Norwegian captain was right. The ship's mate perceived this also after the misfortune had happened, he wept and asked the Norwegian captain humbly for forgiveness.
This unhappy accident upon the sea comes always to my mind, said Andersen, but for myself remains as if it happened yesterday.
After the journey as they had been in the situation of a shipwreck and the uncomfortable trip on the railroad, A. N. Andersen came to Janesville, Wis., July 16, 1873. In Janesville he stayed for two years. He was then with his uncle, who at the time resided in Janesville to Decorah, Iowa, where he was along in building the first Norwegian Lutheran church which was established there
Report Of Investigation
According the investigations, the officers had not been dead reckoning between the 25th and 27th June. The ship was considerably to the northward; and as this could not have been due to Rennell's current. Part of the ship's load consisted of about 300 tons of steel rails, and 700 boxes of tin. It did not appear that the dead reckoning was kept, which if it had, would have indicated that the compasses were affected with a large amount of easterly deviation.
"It was also imprudent to pass the Grand Banks of Newfoundland, without trying for soundings to correct the reckoning, seeing that for six days no observations could be obtained, and as thick weather prevailed for two days after so passing the Banks, it was highly imprudent to continue at full speed without taking a cast of the lead, to show that the ship was off soundings, and particularly so, when it ought to have been known by the master that so much more iron and steel had been placed on board since the compass corrections had been obtained."
There was no mention of a sick captain or of drunkenness. However, it mentions that there were four executive officers on board, but, with the exception of the 3rd officer, who had sailed in her previously, both master and officers were strangers to the ship. The ship's complement of men was ninety-six, inclusive of firemen, stewards, &c.; and she had on board at the time of the disaster, twenty-nine saloon and 442 steerage passengers. The master was held responsible for the accident, and his Master's Certificate of Service was suspended for the space of one year.
Sources:
- North Atlantic Seaway by N.R.P.Bonsor, vol.1, p.239
- Utvandring fra Søndre Aurdal og Aadalen, Vol. II, 361-62
- Sessional Papers of the Government of Canada, 37 Victoria 1873 (4), p. lvii.
- The New York Times (newspaper) May 16, 1866
- The New York Times (newspaper) July 8, 1874
- Morgenbladet (newspaper) 1872