Year
Remarks
1848
March 17 launched in Stavanger
1849
Captain J. C. Westergaard from Stavanger May 16 to New York June 28 Passenger list:
1849
May 16. Cabin passengers (20) include carpenter Balchen and Ommundsen with family from Stavanger. Steering passengers from Hardanger, Skaanevig, Hjelmelands, NŠrstrands, Skjolds and Strands parish
1849
August; leaving New York for St. ▄bes
1849
Dec. 11 leaving Genua for Trapani , Capt. Westergaard
1850
Captain J. C. Westergaard from Stavanger May 16 to New York June 26
1850
Nov. 5 New York from Newcastle with 35 passasjerer, 42 days at sea, Capt. Diriks
1850
Dec. 18 loading in New York for Marseille
1851
March 15 Marseille from New York with oak wood and salted meat
1851
July in New York from Palermo with fruit ($2700)
1851
July 12, leaving New York for St. ▄bes in ballast
1851
Sept. 2 off Portland (England); from St. ▄bes to Norway, Capt. Diriks
The information listed above is not the complete record of the ship. The information was collected from a multitude of sources, and new information will be added as it emerges
In 1849 the brig Favoriten departed from Stavanger on May 16th and arrived at New York June 28th. She was mastered by Capt. Westergaard. She was carrying 191 passengers when she arrived at New York. In 1850 the brig Favoriten left Stavanger on May 16th, just behind the schooner Rogaland which was also sailing with passengers for new York. The Favoriten had 163 steerage passengers and 19 children under 1 year. She was also carrying 43 cabin passengers and 5 children under 1 year. 9 of the families came from Stavanger, all of them craftsmen. Most of the passenger's were from Ryfylke, especially from Hjelmeland, and many from Karm°y, Hardanger and Egersund. There was no one from JŠren. On July 9th, the Favoriten was inspected by the New York customs and was probably fined for bringing 15 passengers more then they were allowed to, according to the 1819 passenger act. The total value of her cargo was 6000$. There is no information of her calling at Newcastle. On July 15th she departed New York for her return voyage to Stavanger. Nov. 5th, 1850 a Norwegian ship by the name of Favoriten showed up in New York again, this time from Newcastle with 35 passengers. (After 42 days at sea).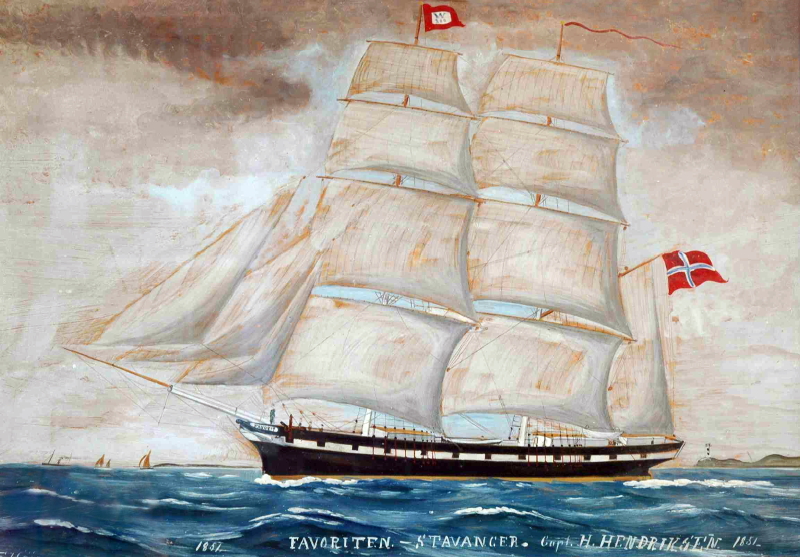 Norwegian emigrant ship, the brig Favoriten painted 1851
FAVOR