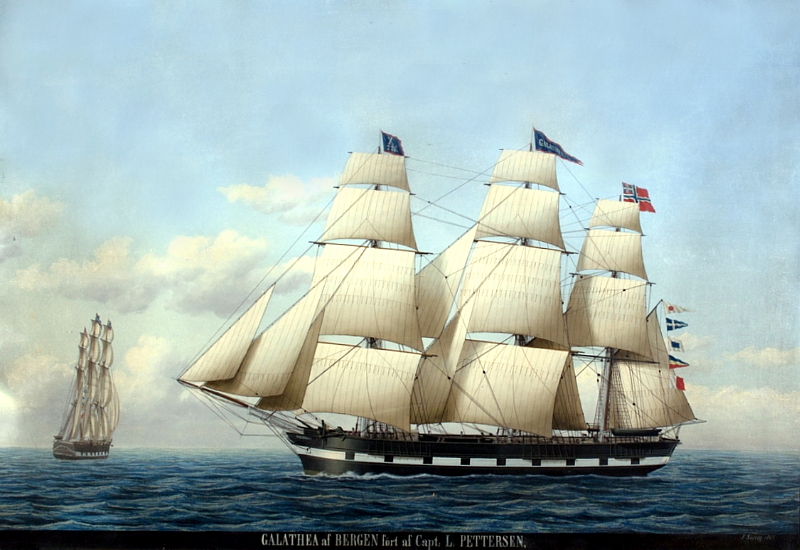 Bark Galathea, Capt. Pettersen
- Painter: Frederik Sørvig
- Source: Bergen Sjøfartsmuseum - License: contact owner
The
ship
Galathea was built at the Navy Shipyard, Copenhagen in 1832. She was first used by the Danish Navy as a corvette. In 1862 she was bought by C. Mohr & son in Bergen.
Newspaper announcement printed in "Trondhjems Adressecontors Efterretninger", Apr 1st 1865; Passenger accommodation offered from Trondhjem to Quebec with the ship "Galata" of Bergen, burden of 330 Commercial lasts.
Fees:
Adults from the age of 15 and up: 14 Spd.
Second fee from the age of 10 to 15: 11 Spd.  From the age of 1 till 10: 8 Spd.
Under 1: Free
As the departure from Trondhjem is scheduled in the middle of may, enrolling will take place uot April at Johan Johansen at Stjørdalshalsen.
In 1865 the Galathea departed from Bergen June 6, and arrived at Quebec July 18. The ship was also announced to sail from Trondheim. From this crossing we are able to present a voyage account written by on of the passengers, see further below. The passenger list is archived by the National Archives of Canada [NAC].
In 1870 the ship Galathea departed from Bergen May 22, and arrived at Quebec July 10. She was sailing in ballast, and was carrying 281
steerage
passengers. All was well at arrival. There had been one birth on the voyage. This year the Galathea was mastered by Capt. L. Pettersen, with a crew of 22, a rather high number!
Account from the 1865 voyage on the Galathea
. This is the diary of the Johan Nilsen and wife, Pernille Nielsdatter (with children) as they traveled to America. The diary was printed in "The Nilsen Saga," written by Arnold Borshem during the last few months before his death in 1956. Permission to put this part of the family history on the web site has been given by Arnold's daughter, Janet Gray of St. Cloud, Minnesota. The story was made available for us by George Kline.