Year
Remarks
1900
Jan. 10, launched as the Deutschland
1900
July 4, maiden voyage Hamburg-Plymouth-New York
1900
Record passage Eddystone-Sandy Hook
1911
Became HAPAG cruising yacht Victoria Luise
1914
Became auxiliary cruiser
1920
Damaged by fire during reconditioning, renamed "Hansa"
1920
New tonnage: 16,333 tons gross, accommodation: 36 cabin, 1,350 steerage passengers
1922
Rebuilt: accommodation: 224 cabin, 1,065 steerage
1925
Scrapped at Hamburg
The information listed above is not the complete record of the ship. The information was collected from a multitude of sources, and new information will be added as it emerges
For more ship history see:
S/S Deutschland (3)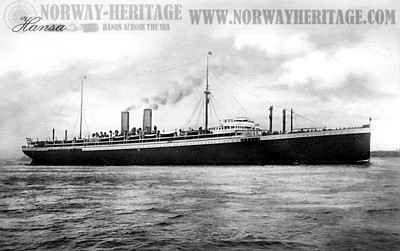 Hansa (2), Hamburg America Line steamship.
Support Norway Heritage: Purchase a copy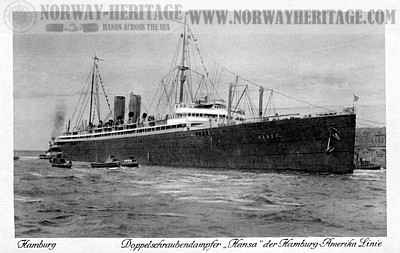 The Hansa (2), ex. Deutschland, ex. Victoria Louise. She had two of her funnels removed in 1922 when renamed.
Support Norway Heritage: Purchase a copy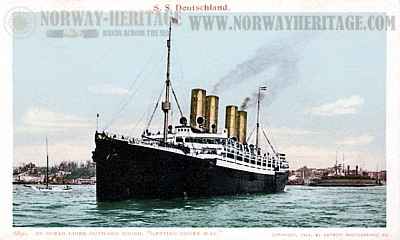 Hansa as the S/S Deutschland (3), Hamburg America Line
Support Norway Heritage: Purchase a copy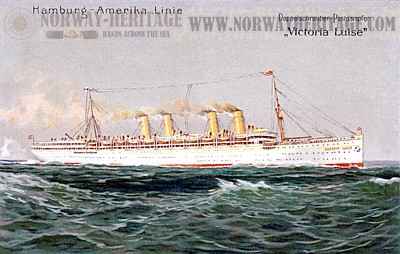 The Hansa as the Victoria Luise in cruising colors
Support Norway Heritage: Purchase a copy
HANS2