The Heros was built by F. Peterson at Sikeň in Sweden in 1867. She was owned by J. A. K°ler & Co. and later by P. H. Rosenkilde & S°n. Her burden was 619 tons gross, 599 tons net. Dimensions: length 170 feet, beam 32 feet and depth 18feet. Master was T. Olsen until 1881. In 1868 the ship Heros departed from Stavanger Apr. 27th and arrived at Quebec June 2nd. She was carrying 298 passengers. Master was Capt. T°nnes Olsen. The passenger list for this voyage was archived by the National Archives of Canada [NAC], and a transcription is included in our database. Note that deaths in 1868 was not noted on the passenger list. In 1869 the bark Heros departed from Stavanger May 3rd, and arrived at Quebec June 1st. She was sailing in ballast, and was carrying 288 steerage passengers and 12 cabin passengers. During the voyage there was one death by accident, Rasmus Johnsen, age 37, drowned? on May 14th. He was the husband of Cicilie age 30. The Heros was mastered by Capt. T. Olsen, and had a crew of 16. The passenger list for this voyage was archived by the National Archives of Canada [NAC], and has been transcribed for our online passenger database.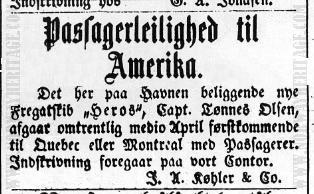 Newspaper announcement for the Hero sailing to Montreal or Quebec in 1868
The following story was submitted by Beverly Erickson. Her grandmother, great-grandmother, and great-great-grandmother were on the ship. Sigrid Kuntsdatter is listed as passenger #151 on the passenger list.
SIGRID'S STORY
Sigrid Knutesdtr Nomeland January 6, 1862-July 29,1933
(Transcribed by Beverly Erickson, granddaughter. I have added parenthetical statements and corrected spelling and some punctuation) I started to write December 5, 1931. On the 24th of March, 1868, a company of 12 was gathered at grandmother's farm at Trydal, Valle, Saetersdal, Norway. Grandmother had sold her farm. She and her children had decided to go to America to try their luck there. There were five children. Their names were Tore, the eldest, and her son, Kittle; Tore, the younger; my mother (Tora Arnesdtr), my brother, Arne, sister Anne, and I (our father had died 2-1/2 years before); Ingeborg and her husband Ole Flateland and their little son Arne; Tollef who was not married; and Tore, the youngest, who was not married. We were to go with horse and sleigh. I think it was two sleighs and one horse for each sleigh. The grownups had to go on skis as there was not room for them. We were to go to Stavanger and sail from there. The road was not very good but it was quite a bit farther to Kristiansand.
JOURNEY TO STAVANGER
Here we are on the bright March morning ready to start on our way to town. A last, long look over the field, gards, lake and everything. It must have hurt all in their hearts to turn their back to the dear old home, but all are on the way.
When we came to Valle, Anund, his wife Turbjor and five children - Turi, Bergit, Gunvor, Evend and Folke- joined our company and quite a few more. It took us four days to get to town. This trip is hazy to me. Only one thing I recall. One nice day Ole Flateland called to all on skiis " Are you brave enough to make a high jump on skies?" Aunt Tore called "I am." He said, "Let us see you don't fall on the snow and loose your skies." All made the jump but Aunt fell. Ole laughed. She took it cheerfully. He called "Hooray for mother." She stood like a man. I was proud of mother. They were all good on skies.
At Stavanger at last. We had quite a bit of food with us but had to get a whole lot more so it would last for 7 or 8 weeks. We had to wait two weeks before we could board the ship. Mother's uncle, his wife and two children lived in town so the time didn't seem so long.
JOURNEY ABOARD SHIP
At last we stood on deck. Many waved goodby to friends and the old Norway. Many waved back. At last we moved out to the North Sea. We were to go to Hull, England. What we noticed most at Hull was the enormous, big horses for big wagons. We didn't stop there long. Then for the Atlantic ocean. We had not come far on the North Sea until everybody looked sick and went to their bunks. A fire was on deck so Aunt Tore and I watched the fire. But soon we felt queer, too and had to go below to our beds. None of us kept our last meal very long. The next day I felt all right but many were sick for days and some for weeks.
The ship's name was the Sea Queen!! (ship's manifest list calls it the Heros). The captains name was Kyle!!. He was a kind man. When we left England we sailed past Greenland. It was so beautiful and green. The whole land seemed greener than everything else I had seen. The captain went in as close as he dared so we could get a good look. Some men were waving to us. Some waved back. Soon we saw only sea for days. It was nice. Some days it was so still the ship didn't seem to move. Some days were cloudy. Then it was dreary. Especially one day the fog was so thick we saw only the ship. A man was high up on the mast on a small platform tooting a horn every so often. Nice days again.
Then one day a great thunderstorm. It got so dark and there was thunder and lightning. The big part (most people) went below. Some were on the deck. I was there, too. When the sea looked like washing over the deck the captain called "all hurry below." We did. A girl of 12 ran ahead of me. When she had gone two steps she fell to the floor. The captain came running. He said he didn't think it was the big girl, he thought it was me. He said "you could make it without falling. You are such a little thing." Then he ran up again. The rest came down and they tried to close the trap door. Before they got that far a big wave washed over the ship. A lot of water came below. Then for a long time the storm raged like Townsend's furies. The ship groaned and creaked like it would break in a thousand pieces. Then it settled little by little.
What did it look like around us? The water splashed from side to side and boxes and whatever were tied to the mast. Much was torn loose and rolled around the floor in the water. Everyone had to be in their beds. To get to the floor was impossible. One would get ones limbs broken. When it was possible a man came down and let the water out and he got help to tie things to the mast again. But it was a sorry looking place What a relief the storm was over before night came.
When I think about how it was below deck it seemed to be all one room and beds two rows all around, one above the other. Nearly all of us had lower beds. The food chest was tied to the bed. We had that for a table. There had to be a bucket by each bed. Many were sick so often their food would not stay down when the sea was rolling, tip over they (buckets) would. For my part I thought that I couldn't stay below all day long. The air was terrible. I used to go up on deck alone. I was not afraid. I liked to look at the sea. The captain was afraid I would fall overboard. He told me to go down again but Aunt Thore went and talked to say I could take care of myself and that I got sick of the smell. Then he said, "If you think it is all right I will have an eye on her." He was so kind.
Arne couldn't stand to be on deck. He was afraid of the sea so he stayed below for many days. The captain came down and told mother they had to carry him up and stay with him every day for a few hours or he would never see land. So they did. He got better. Kittle was around more so he was well. Our bunch stood it fairly well.
A few days after the first storm we had another not quite so hard. The two storms had driven the ship far north out of course. We came where there were a lot of whales. We could see up to a dozen at a time. They sent streams of water high in the air. Further on we saw lots of walrus. Their lithe, fat bodies rolled in the sea. It was fun to see. I was so interested. One big whale came close to the ship. A man threw a rock at the whale. The captain was so angry he nearly hit the man. The captain said if the whale gets ugly and hits the bottom of the ship with his tail it will break the ship. We will then go down in a little while. The captain and the crew were worried because the storms had brought us too far north. They were afraid that we would meet ice bergs, and one day one came. It seemed to head straight for the ship. Lots of passengers came on deck to see it, but when it came too close many began to cry. Some prayed. Some wrung their hands. It was terrible to see and hear but luck was with us. The ship had a close shave. When we were safely past what a difference. How happy everybody was and we thanked God.
Many were sick and it wasn't long before someone died. For three days all of our bunch but Arne and I were sick in bed with only us to bring what they could eat. I had to go up to the cook to get water to drink for all 10, but the cook wouldn't let me have so much. He thought we wasted it. The fourth time he went with me and he said I could get all the water I wanted. They were afraid the water would get short and it was hard to tell when we would see land, if ever. Another storm. The ship was old and poor. How long would it hold together? Most of us were weary and sad. Mother got sick. They thought she would die but she got well again. Now we had hope we would soon get to land. Then sister Ann was taken sick. She died Wednesday and Anund's son Folke , some over a year old, died a little later. Anund took his food chest for the coffin. The two little bodies were laid together and buried in the ocean. A hard turn again for mother and all of us. So many had died, more than 20, so the material for coffins gave up. Mother could not think of burying Ann just wrapped in canvas. Anund thought the same.
Two days after Ann died we could see land. It seemed a long time until we reached the St. Lawrence River. It was so shallow and narrow. Now we thought we could hurry to land but two doctors came on board. All had to be looked over before we could leave the ship. Now I seem to see (remember) the tired and haggard passengers when they spied land after a 7 weeks and two days journey. Everyone's faces were shining of happiness because we had reached our destination. All storms, fears and worries were over. When we again stepped on earth and the wonderful American soil. No one can understand our feelings without the experiences we had just had.
When we were on land a big husky Negro came to help with the stuff to bring on land. Torbjor saw him grin. I suppose he thought we were dressed funny. We had on our Norwegian clothes from our valley. We must have looked terribly funny to him. Torbjor got angry and told him he better go home and wash- the dirty chimney sweeper. We didn't know there were black people.
Our good, kind captain and his men turned back to Norway. The ship was old and not in good condition for that long journey. Three years later we heard that the ship and crew were never heard from. [Not a reallity] What a pity for the captain and his men. I hope God took them where there are no storms or suffering. We landed in Quebec the second day of June, 1868.