Year
Departure
Arrival
Remarks
1899
Sept. 21, launched
1900
Apr. 14, maiden voyage Liverpool - Queenstown - New York
1900
Liverpool
New York
Apr. 23
Record in a total of 2.190 passengers crossing the Atlantic Ocean in one Ship. 200 Norwegian passengers on board
1900
Liverpool
New York
May 21
1900
Boston
June 21
1900
Liverpool
Boston
July 25
1900
Liverpool
Boston
Aug. 28
1900
Liverpool
Boston
Oct. 04
1900
Liverpool
Boston
Nov. 07
1900
Liverpool
Boston
Dec. 14
1901
Liverpool
Boston
Jan. 24
1901
Liverpool
Boston
Feb. 27
1901
Liverpool
Boston
Apr. 18
1901
Liverpool
Boston
May 22
1901
Liverpool
Boston
June 26
Trondheim - America in 12,5 days
1901
Liverpool
Boston
July 31
1901
Liverpool
Boston
Sept. 04
1901
Liverpool
Boston
Oct. 09
1901
Liverpool
Boston
Nov. 14
1901
Liverpool
Boston
Dec. 20
1902
Liverpool
Boston
Feb. 27
1902
Liverpool
Boston
Mar. 27
1902
Liverpool
Boston
May 21
Journey of 7 days
1902
Liverpool
Boston
June 18
1902
Liverpool
Boston
July 16
Crossing the Atlantic Ocean in 7 days
1902
Liverpool
Boston
Aug. 13
Crossing the Ocean in 7 days
1902
Liverpool
Boston
Sept. 10
Arrived in Boston at 06:00 morning
1902
Liverpool
Boston
Nov. 13
1903
Liverpool
New York
Jan. 11
1903
Liverpool
New York
Feb. 10
Arrived in New York at 09:00 morning
1903
Liverpool
New York
Mar. 15
Arrived in New York at 07:00 morning
1903
Liverpool
New York
Apr. 12
1903
Liverpool
New York
May 10
1903
Liverpool
Boston
June 10
1903
Liverpool
Boston
Oct. 28
1903
Liverpool
Boston
Dec. 02
1904
Liverpool
New York
Jan. 02
Arrived in Nantucket 1904-01-02
1904
Liverpool
Boston
Mar. 10
1904
Liverpool
Boston
Apr. 06
Arrived in New York at 07:00 morning
1904
Liverpool
Boston
May 04
Arrived in Boston at 08:00 morning
1904
Liverpool
Boston
June 01
1904
Liverpool
Boston
June 29
1904
Liverpool
Boston
Aug. 23
1904
Liverpool
Boston
Sept. 21
1904
Liverpool
Boston
Oct. 19
1904
Liverpool
Nov. 15
Boston
Nov. 24
Subm. by Robin Olsen, California
1905
Liverpool
Boston
Jan. 27
1905
Liverpool
Boston
Feb. 23
1905
Liverpool
Boston
Apr. 05
1905
Liverpool
Boston
May 03
1905
Liverpool
Boston
July 26
1905
Liverpool
Boston
Aug. 22
1905
Liverpool
Boston
Sept. 19
Arrived in Boston on a Tuesday morning at 04:00
1905
Liverpool
Boston
Oct. 18
1905
Liverpool
Boston
Nov. 15
1905
Liverpool
Boston
Dec. 13
Arrived in Boston at 09:00 morning
1909
Liverpool
Feb. 23
Boston
Mar. 04
Subm. by Mark Karlberg
1914
Troop ship
1917
Jan. 1: Torpedoed and sunk near Cape Matapan, Greece by German sub UB-47 while trooping, 121 lives lost
The information listed above is not the complete record of the ship. The information was collected from a multitude of sources, and new information will be added as it emerges
Cunard Line steamship Ivernia - at Boston

Support Norway Heritage: Purchase a copy

Ivernia, Cunard Line steamship

Support Norway Heritage: Purchase a copy
Ivernia and Saxonia, Cunard Line steamships

Support Norway Heritage: Purchase a copy

Ivernia (1), Cunard Line steamship

Support Norway Heritage: Purchase a copy
The
Ivernia
(1) was built in 1900, by C.S. Swan & Hunter Ltd. in Newcastle. She was the sister ship of the
Saxonia
. Her tonnage was 14,058 tons gross, 11,057 under deck and 9,052 net. Bridge on shelter deck 275 feet long. She was constructed in steel, had twin screws, 4 masts, 3 steel decks. The upper and main decks were partly sheathed in wood. Steel orlop deck forward, orlop beams aft, steel shelter deck sheathed in wood. Web frames. She was fitted with electric light and refrigerating machinery. There was a cellular double bottom, aft 163 feet long, under engine and boilers 113 feet amd forward 205 feet, 2,001 tons. Propulsion: quadruple conversion engine with 8 cylinders of 28 1/2, 41, 58 1/2 & 84 inches diameter each pair; stroke 54 inches; operating at 210 p.s.i.; 1,668 nominal horsepower; 9 single ended boilers; 27 corrugated furnaces; grate surface 557 sq. ft.; heating surface 25,147 sq. ft.; forced draught; engine built by Wallsend Slipway Co. Ltd. in Newcastle. She had accommodation for 164 1st calss, 200 2bd class, and 1600 3rd class passengers. She started on her maiden voyage from Liverpool to New York on April 14th 1900. Her normal service was Liverpool - Queenstown (Cobh) - Boston.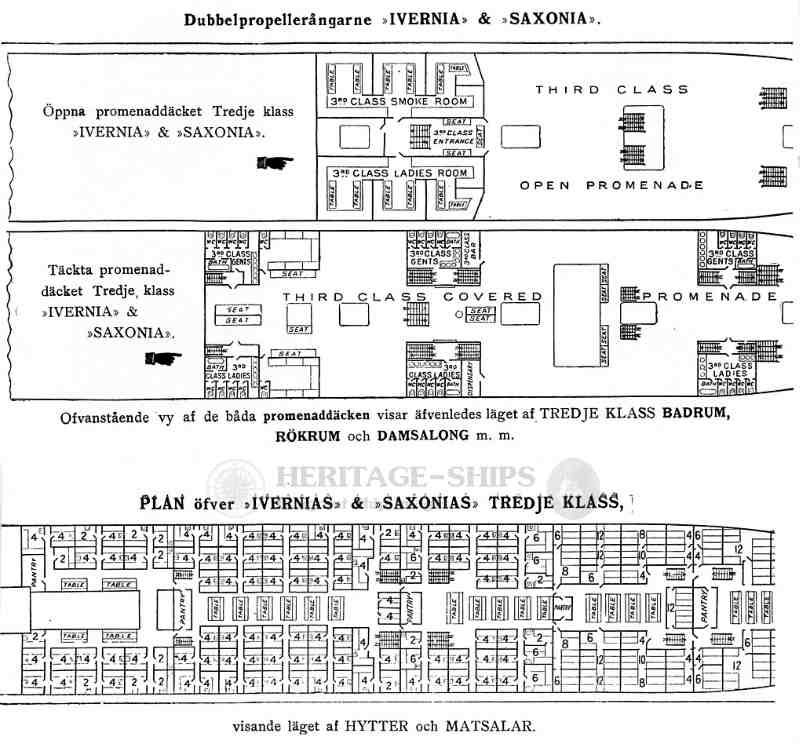 Steerage plans, Saxonia and Ivernia, Cunard Line steamships
Support Norway Heritage: Purchase a copy
3rd class (steerage) plans of the Cunard Line sisters Ivernia built 1899 at Wallsend-on-Tyne, England by C. S. Swan & Hunter and Saxonia built 1899 at Glasgow by John Brown & Co. Ltd. The plan includes the layout of 3rd class cabins for 2, 4, 6, 8, 10, or 12 passengers with dining areas, 3rd class open promenade deck, smoke room and ladies room, 3rd class covered promenade with baths and lavatories. The text is partly in English and partly in Swedish. The plan was printed in an old promotional booklet handed out by an agent in Sweden to potential emigrants.
| | | |
| --- | --- | --- |
| | Steerage ladies room, from an old booklet | Steerage dining room, from an old booklet |
| | | |
| --- | --- | --- |
| | Promenade deck for steerage (3rd class) passengers on the Cunard Line steamships Saxonia and Ivernia | Smoking saloon for steerage (3rd class) passengers on the Cunard Line steamships Saxonia and Ivernia |
| | | | |
| --- | --- | --- | --- |
| | 2nd class 4 berth stateroom | | |
IVER1