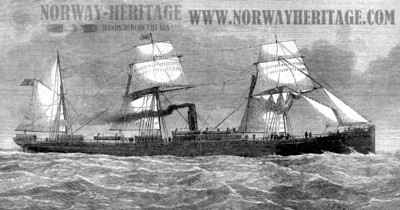 The 3 sister-ships Lake Champlain, Lake Nepigon and Lake Megantic of the Beaver Line
all looked the same as on this
picture originally showing the Lake Champlain
.
Support Norway Heritage: Purchase a copy
The iron screw-steamer Lake Champlain was the first of the Beaver Line steamships intended to run between Liverpool, Quebec, and Montreal during the season when the navigation of the St. Lawrence was open, and during the winter between Liverpool and some open American port.
The Lake Champlain was built and her engines made by the London and Glasgow Engineering and Iron Shipbuilding Company, at Govan, near Glasgow. Her owners were the Canada Shipping Company, of Montreal and Liverpool. She hailed from Montreal, and was the first steamer built on the Clyde sailing under the new Dominion flag. She was 321 ft. long, 35 ft. beam, and had 26 ft. depth of hold from tonnage deck to ceiling amidships, with a burden of 2207 tons gross register. She was classed 100A at Lloyd's, but was built to a specification of the owners, much in excess of Lloyds' requirements. There were three decks, the upper deck being a spar deck; and lofty tween-decks suitable for carrying emigrants. The ship was barque-rigged she was fitted with patent steam steering-gear, with steam windlass for raising anchors, four steam winches, and all the latest improvements.
The object of the owners was to provide a vessel specially adapted for the Canadian trade, and strong enough to withstand the roughest storms of the Atlantic. The Lake Champlain was, therefore, specially strengthened where there was the slightest chance of her coming in contact with the ice. On her official trial-trip from Greenock she ran the measured distance between the Cloch and Cumbrae lighthouses, a distance of 13'666 knots, within less than seventy-one minutes. Her engines, which were of 250-horse power nominal, were found to work satisfactorily, and the average speed of the vessel was 11 knots.
The two sister-ships to the Lake Champlain were named Lake Nepigon and Lake Magantic (for the same owners)