The S/S Laurentic (2) was built by Harland & Wolff in 1927 and launched on June 16th 1927. She was a 18,724 gross ton vessel with two funnels, two masts, three screws and a speed of 16 knots. Accommodation for 594-cabin class, 406-tourist class and 500-3rd class passengers. Maiden voyage Liverpool - New York on November 12th 1927, first voyage Liverpool - Quebec - Montreal on April 27th 1928. On October 3rd 1932 she collided with the British vessel
"Lurigethen"
in Belle Isle Strait with some damage to both ships. February 25th 1934 she sailed on her last voyage Boston - Halifax - Liverpool. In 1934 she came under the control of the new Cunard-White Star Line and in July 1934 commenced running between Liverpool - Quebec and Montreal for two round voyages and was then put onto cruising. On August 18th 1935 she collided with the Blue Star line's
"Napier Star"
in the Irish Sea with the loss of six lives. In December of that year she was laid up at Southampton. In 1936 she made a trooping voyage to Palestine and in 1938 was laid up at Falmouth. On August 24th 1939 she was commissioned as an armed merchant cruiser and on November 3rd 1940 was torpedoed and sunk by German submarine U.99 off Bloody Foreland, North Western Approaches, with the loss of 49 lives.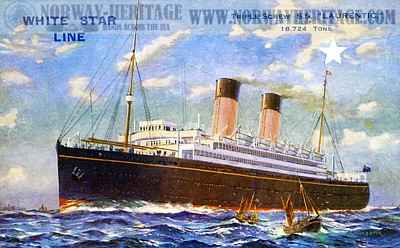 White Star Line steamship Laurentic (2)
Support Norway Heritage: Purchase a copy