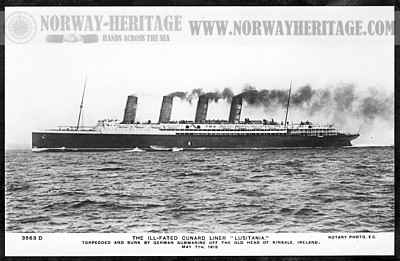 S/S Lusitania, Cunard Line
Support Norway Heritage: Purchase a copy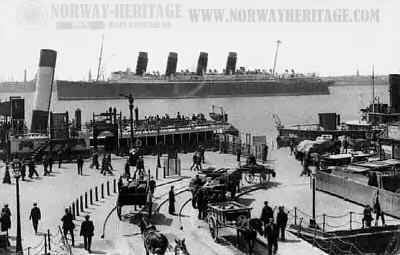 S/S Lusitania at Liverpool [old postcard]
Details: 31 550 tons gross, 9 145 tons net. Her dimensions were: 762 feet length, 87 feet beam (232.31m x 26.75m) The Lusitania was one of only fourteen ever built four stackers. The machinery marked the Lusitania as a pioneer in maritime history. She had four direct acting steam turbines of the Parsons type, and had four propellers, with 3 blades each. The ship's quadruple screw propulsion unit was driven by direct drive steam turbines which developed some 68,000 IHP and, revolving at 180 rpm, which gave the ship a speed of 25 knots. She had seven decks for the use of passengers. There was accommodation for 563 first class passengers, 464 second class passengers, 1 138 third class (steerage) passengers. Third class passengers were no longer accommodated in 'open berths' but in four- or six-berth cabins.
On her second voyage on the Liverpool - Queenstown - New York service, she took the transatlantic record from the Norddeutscher Lloyd's steamer Kaiser Wilhelm II. The Lusitania made the Queenstown to Sandy Hook crossing in 4 days 19 hours and 52 minutes. In November 1907 the Lusitania's sister ship, the Mauretania, came into service and it was not long before the slightly better performance of the latter began to show. The basic design of the Lusitania and Mauretania was the same, but the two ships were vastly different in the interior. While the Lusitania was built by Brown & Co at Glasgow, the Maureatania was bulit by Swan, Hunter & Wigham Richardson at Newcastle. They were also designed by two designers. The Lusitania was designed by James Millar and the Mauretania by Harold Peto. An other difference was the propeller, the Maretania had four blades propellers, while the Lusitaniua's propellers had three blades, but in February 1909, the Lusitania also was fitted with new four bladed propellers.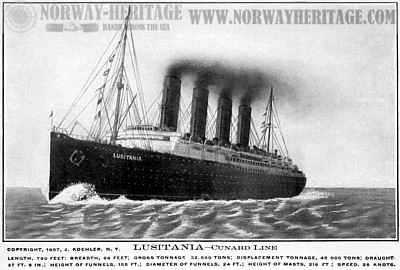 Lusitania, Cunard Line steamship
Support Norway Heritage: Purchase a copy
On May 1st, 1915 the Lusitania departed from New York for Queenstown and Liverpool, carrying 1 959 passengers. Many of the passengers were American citizens going on visit to Europe. On May 7th, off the Old Head of Kinsale, the Lusitania was torpedoed by the German submarine, U-20. She sank in 18 minutes. 1 195 people drowned, 123 of them were American citizens. Germany had warned the Americans against taking passage on British ships, but the incident contributed to the rise of American sentiment in favor of entering WWI on the side of the Allies.
[N. R. P. Bonsor, North Atlantic Seaway, vol 1, Atlantic Liners of the Cunard Line 1884 to the Present Day by Neil McCart - PSL, 1993., Merchant Fleets in Profile, by Duncan Haws, vol 2]