The
ship
Maple Leaf was built in April 1848 by Hyp. Dubord in Quebec. Burden was 400 Norwegian
Commercial lasts
, which equals 823 reg. tons. In 1859 she was the biggest ship in Norway. She was owned by Hans E. Møller in Porsgrund.. From 1861 she was mastered by Edvard Funnemark (1823 - 1885). Funnemark had become famous after saving the crew and passengers of a burning German steamer in September 1858. Because the National Archives of Canada [NAC] did not start the archiving of passenger lists before 1865, and the Norwegian emigration records did not start before 1867, there are no complete records of passengers for the voyages described on this page in any of those archives.
Timeline to records.
The first record of the Maple Leaf sailing from Norway with emigrants dates back to 1857. She departed from Bergen on May 6th, and arrived at Quebec on June 26th. She was mastered by Capt. Helgesen. The Maple Leaf was announced to sail from Porsgrund in April 1859 for Quebec, but we have not been able to confirm a voyage that year from primary sources.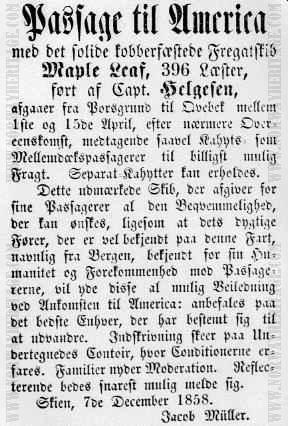 Newspaper announcement from the Correspondenten December 18th, 1858; Passage to America with the copper nailed [or hooded] ship Maple Leaf, 396 lasts, mastered by Capt. Helgesen, departs from Porsgrund for Quebec between the 1st and the 15th of April, on appointment she will take cabin and
steerage
passengers to the lowest possible fee. Single cabins are available. This excellent ship, that provides all the comfort that can be demanded, and the skilled master, are well known in this trade, namely from Bergen, known for the humanity and complacency towards the passengers, will give all possible assistance at arrival to America: Recommended on the highest for those who have decided to emigrate. Enrolling on the undersigned's office, where conditions are given. Moderation for families. Possible passengers are requested to take contact as soon as possible. Skien, December 7th, 1858. Jacob Müller
In 1861 the newspaper "Correspondenten" wrote about the Maple Leaf journey:
The Ship "Maple Leaf", Capt. Funnemark, left Porsgrund April 17th this year, and arrived in Quebec June 11th. Among the emigrants on board the ship there were 198 persons arriving in Quebec without owning a single cent. The journey across the ocean had taken quite a long time, and had been hard. The poorest of the passengers went out of supplies, and had to buy from those who had brought enough. This was given as a reason for why they did not have any money when arriving in Quebec. This could not have been the only reason, as they had not bought supplies for more than 4 - 5
Spd
. for the crossing, and the fee for the passage had not been more than 12 Spd. for adults and 6 Spd. for children. Of the 598 passengers 19 children and 3 adults had died while the ship was drifting among the icebergs north off Scotland. Though it is said that they did not die due to the low temperature, but from an outbreak of fewer. 2 - 3 persons had died every day.
The 198 passengers that were without means, had to stay on the ship for 8 days after the arrival in Quebec. Eventually they were permitted to leave the ship, and went by railway to Toronto. They had an interpreter named Brynjolfsen traveling along with them, and he made a contract for them with the railroad company, to take them all the way to Chicago for 100 Spd. or their belongings as bail. They managed to get hand of 97 Spd. When they arrived in Detroit, Michigan, the interpreter told them that the railroad company wanted another 100 Dollars to take them to Chicago, or their baggage-checks in bail. As they did not have any more money, Brynjulfson was given the baggage-checks to give to the company, and the journey proceeded. On Saturday the 22nd they arrived in Chicago, where they stayed in the railway station, supported be Norwegians living in the city. They brought them what they needed to survive, and the City Marshal Iver Lawson, Shopkeeper Jens Olsen Kaase, and others collected about 100 Dollars for them. The railroad company, believed to be the Michigan Central, would not give them their baggage, before the 100 Dollars was paid. Lawson and Hanson threatened the company by saying that they would have to bring the 198 immigrants back to Detroit again, if the baggage was not handed over, and that worked. The Galena- Milwaukee- and Northwestern railroad company brought them the rest of the way to North Stoughton, Madison and La Crosse for free.
The 198 poor passengers claimed that they had been swindled by Brynjulfson, who had promised that the railroad would take them all the way to Chicago for 100 Spd. Relatives in America had written home and told them that they would be able to travel from Quebec free of charge, which was exactly what actually happened. What should we do, they said, we had no money anyhow, and it could not be much worse in America than in Norway. Almost all of them came from Upper Telemark, from Hvidsten, Laurdal, Tinn and Vinje.
When the Maple Leaf arrived at Quebec captain Funnemark was fined 580 dollars for violating the
1828 passenger act
. He was only allowed to carry one passenger for every 2 tons. The maximum number of passengers she could take according to the act was 416, but she arrived with 598.
In 1862 the Maple Leaf departed from Porsgrunn Apr. 15th, and arrived at Quebec June 28th. She was carrying 260 passengers. On this voyage captain Funnemark saved the crew of a Dutch Koff, sinking in the North Sea. In 1863 she departed from Porsgrunn March 24th nad arrived at Quebec June 8th. On this voyage she was carrying 82 passengers, most of them from the Skien area and Holden. In 1864 she departed from Porsgrunn March 23rd, and arrived at Quebec May 14th. She was carrying about 100 passengers from the Porsgrund and Skien area.
The story of a journey from Norway to Quebec in 1861
This story was written by Thor Sigurdson who traveled on the Maple Leaf from Skien to Quebec in 1861 is presented with kind permission from
Pam Risvold
in Austin Texas. The story was written by Pam's great grandfather's brother-in-law, Thor Sigurdson. Thor traveled on the Maple Leaf from Skien to Quebec in 1861. It is a wonderful story, and it provides quite a vivid picture of the trek of many emigrants from Norway. Pam has presented this story to us exactly as she found it, and has not added, changed, or corrected Thor's story in any way.