The "Manchester Shipper" was built by Irvine's Shipbuilding Company, West Hartlepool (engines by W. Allan & Co, Sunderland) in 1899 for Manchester Liners. She was a 4,038 gross ton ship, one funnel, two masts, single screw and a speed of 12 knots. Launched on 18.11.1899, she was chartered to the French owned Franco-Canadian Steam Navigation Co., in 1901, for three voyages. The first was undertaken in October 1901 when she sailed from Dunkirk and Bordeaux for Quebec, arriving on 27th October with 9-1st class and 217 steerage passengers. The following April, she sailed from Christiania (Oslo) to Halifax, with 6-1st class, and 758 steerage passengers. In June 1902 she sailed from Havre to Halifax with 2-1st class and 233 steerage. In 1930 she was scrapped at Briton Ferry.
503 of the passengers which boarded in Christiania had signed contracts to work for a Canadian Company:
FREE PASSAGE TO NORTH-AMERICA - On the S/S Manchester Shipper in 1902 - article by Trond Austheim and BÝrge Solem.
In 1902 several thousand people were witnesses to the departure of one of the most spectacular crowds of emigrants ever to have left the port of Kristiania. This happened when almost 500 young Norwegians boarded the S/S Manchester Shipper at Vippetangen for a free passage to Canada.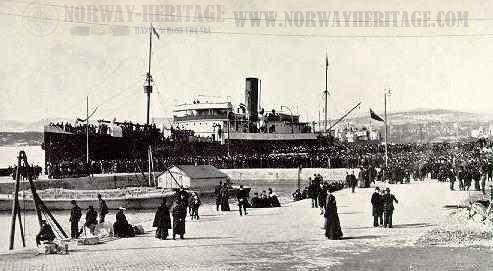 Picture of the Manchester Shipper
departing Kristiania in 1902