Year
Remarks
1898
Australian service
1917
Liner Requisition Scheme
The information listed above is not the complete record of the ship. The information was collected from a multitude of sources, and new information will be added as it emerges
Tonnage: 11,985 tons gross, 11,183 under deck and 7,825 net. Poop 57 feet long, Bridge Deck 107 feet, and Forecastle 55 feet. She had one funnel, 4 masts, 3 decks, was fitted with electric light and refrigerating machinery. Water ballast. She had twin screws and quadruple expansion engine with 8 cylinders of 22, 31½, 46 & 67 inches diameter each pair and stroke 51 inches. The engine delivered 641 nominal horsepower and was built by Harland & Wolff. Call sign: RDHF. Official registration #: 110573.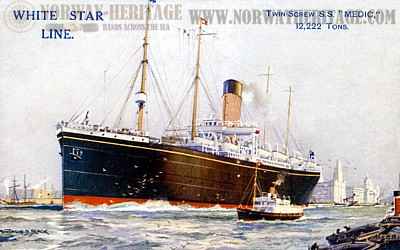 Picture of the S/S Medic
Support Norway Heritage: Purchase a copy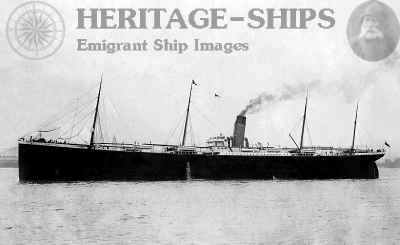 Medic, White Star Line steamship
Support Norway Heritage: Purchase a copy
MEDIC