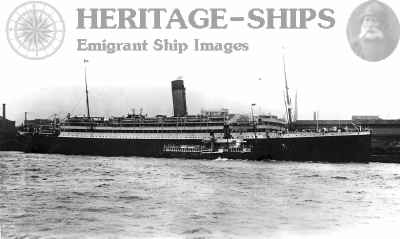 Megantic, White Star Line steamship
Support Norway Heritage: Purchase a copy
Originally laid down as the "
Albany
" for the Dominion Line, but launched as the "Megantic". Tonnage: 14,878 tons gross, 11,923 under deck and 9,183 net. She had one funnel, two masts, 3 decks and 2 partial decks. She was fitted with electric light, refrigerating machinery, submarine signalling device and wireless. Water ballast. She had twin screws and was equipped with
quadruple expansion engines
with 8 cylinders of 29, 42, 61 and 87 inches diameter each pair and stroke 60 inches. The engine delivered 1,180 horsepower. It was built by Harland & Wolff. Call sign: JPCF. Official registration #: 127981. On June 17th 1909 she started on her maiden voyage from Liverpool to New York. She was later used for the Canadian service.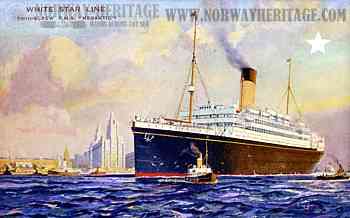 Picture of the S/S Megantic
, from an old postcard
Support Norway Heritage: Purchase a copy