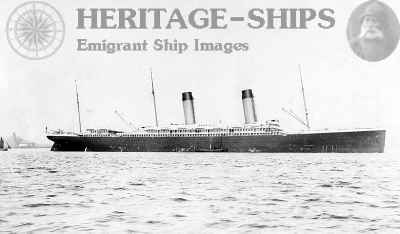 Oceanic (2), White Star Line steamship
Support Norway Heritage: Purchase a copy
The S/S Oceanic (2) was built in 1899 by Harland & Wolff shipyard in Belfast. Her tonnage was 17,274 tons gross, 14,731 under deck and 6,917 net. Dimensions: Poop 75 feet long and forecastle 130 feet. She had 2 funnels, 3 masts and 4 decks. She was fitted with electric light and refrigerating machinery. She had twin screws and
triple expansion engines
with 8 cylinders of 47½, 79 & (2) 93 inches diameter each pair and stroke 72 inches. The engine delivered 3,014 nominal horsepower which gave the ship a speed of 19.5 knots. The engine was built by Harland & Wolff. Call sign: RHDF. Official registration #: 110596. When she was launched on January 14th 1899, she was the largest and most luxurious liner in the world. Crossing times; 1901 Cobh to Ambrose Light 5 days 15 hours and 30 minutes, 1909 Ambrose Light to Plymouth Eng. 6 days 9 minutes.
LIGHTNING HITS OCEANIC
New York Times, Thursday, March 23, 1911:
Foretopmast Shattered and Wireless Temporarily Put Out of Business. The White Star liner Oceanic came into port yesterday without her wooden foretopmast. It was shattered by lightning in a heavy squall on Tuesday morning. The ship was plowing her way through a heavy sea when the bolt struck. The ship rocked and then from the foremast about nine feet of wooden spar came crashing to the deck. The top of the mast just missed the funnel, dropping on the railing around it and near the glass saloon dome. No one was hurt. Chief Officer Lighteller, who was on the bridge, came near being struck by big splinters. The breaking of the mast top snapped the wireless riggers, putting the wireless out of commission. It was nearly an hour before the damage was repaired so that messages could be sent. This was done by stringing the wires between the main and mizzen masts. Though the Oceanic encountered heavy seas all the way from Daunt's Rock to the Ambrose Channel, she made the voyage in 6 days and 52 minutes, arriving here on time.
Oceanic (2) - at the landing stage, Liverpool

Support Norway Heritage: Purchase a copy