Year
Remarks
1914
Mar. 30, launched as the "William Oswald" for HAPAG
1916
Renamed "Barabantia", for Royal Holland Lloyd
1922
Renamed "Resolute" for United American
1926
Returned to HAPAG
1926
Aug. 10, first voyage Hamburg-Southampton-Cherbourg-New York
1935
Sold for scrapping, became Italian Govt. ship "Lombardia", transport ship in Abyssinian War
1943
Damaged in air attack on Naples
1947
Scrapped at Spezia
The information listed above is not the complete record of the ship. The information was collected from a multitude of sources, and new information will be added as it emerges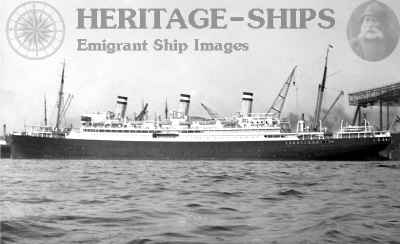 Resolute, Hamburg America Line steamship.
Support Norway Heritage: Purchase a copy
Resolute, Hamburg America Line steamship
Support Norway Heritage: Purchase a copy
RESOL