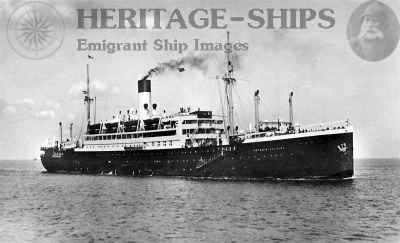 Sierra Nevada (3) as the Antonio Delfino
Support Norway Heritage: Purchase a copy
The ship was built as the Antonia Delfino to operate on the Hamburg - South America service. In 1932 the ship was chartered to the Norddeutscher Lloyd and renamed "Sierra Nevada (3)". In 1934 she was returned to the Hamburg South American Line and the name was changed back to "Antonio Delfino".
In 1940 she was requisitioned by the Kriegsmarine and used as a barracks ship at Kiel, and from 1943 at Gdynia. In 1944 she became a command ship for the Admiral of Submarines at Gotenhafen. In 1945 she was used to evacuate refugees and wounded military personnel from Gdynia, carrying a total of 20,522 people in five voyages. In May 1945 she was seized by British forces in Copenhagen.
She was taken over by the Ministry of War Transport and managed by the Anchor Line. The ship was refitted as a troopship by John Brown & Co, Clydebank. and renamed "Empire Halladale". On August 31, 1946, she inaugurated a troopship service between Tilbury and Cuxhaven, during which period she also transported families of UK military personnel who were to live in Germany, later serving in the Middle East and Far East. Laid up in October 1955 at Glasgow. Scrapped in February 1956 at Dalmuir, West Dunbartonshire.