Year
Remarks
1840
Built in Trondheim as the Freya
1856
Rebuilt and lengthened
1857
Captain Jacob Olsen Bræchan from Trondheim May 19 to Quebec July 10
1858
Captain Jacob Olsen Bræchan from Trondheim June 1 to Quebec June 30
1861
Wrecked off Odessa, all crew saved
The information listed above is not the complete record of the ship. The information was collected from a multitude of sources, and new information will be added as it emerges
In 1857 she departed from Trondheim on May 18th, and arrived at Quebec on July 10th. She was carrying 193 passengers, from Meråker, Stjørdal and Selbu. The journey lasted 50 days and they had several storms. She was mastered by Jacob Olsen Breæchan (1810-1863). In 1858 she departed from Trondheim June 1st, and arrived at Quebec June 30th. She was carrying 74 passengers. The cook and one of the sailors "jumped ship" when it arrived to Quebec. A 3 year old child died during the crossing. Master was Jacob Olsen Bræchan. Because the National Archives of Canada [NAC] did not start the archiving of passenger lists before 1865, and the Norwegian emigration records did not start before 1867, there are no surviving passenger lists for the voyages described on this page. Timeline to records.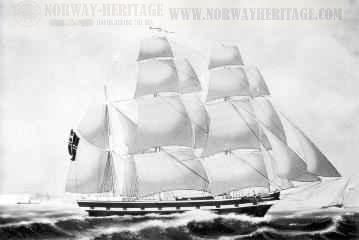 Bark Sverre [Trondheim Sjøfartsmuseum]
SVERA