S/S Teutonic, early image with what appears

to be shorter funnels then on some later images. (pre 1903?)

Support Norway Heritage: Purchase a copy

S/S Teutonic, taller funnels (post 1903?)

Support Norway Heritage: Purchase a copy
Teutonic seen with tall funnels. Her upper decks

also apperas to have been rebuilt and she

has sheltered promanade decks. (post 1911 - 1913?)

Support Norway Heritage: Purchase a copy

Teutonic as a WW1 armed cruiser

two canons can be seen on the after deck

Support Norway Heritage: Purchase a copy
Details: 9,984 tons gross, 8,829 under deck and 4,269 net. She had two funnels, 3 masts, was fitted with electric light and refrigerating machinery. She had twin screws and
triple expansion engines
with 6 cylinders of 43, 68 and 110 inches diameter each pair and stroke 60 inches. The engine delivered 1,875 nominal horsepower which gave the ship the impressing speed of 20 knots. There was passenger accommodation for 399 1st class, 190 2nd class and 1000 3rd class passengers. Call sign: LFWN. Official registration #: 96334. Master: Captain E.R. McKinstry, appointed to the vessel in 1899.
It is most likely that the Teutonic was rebuilt with shorter funnels at about the same time as her sister the Majestic (1) was rebuilt with shorter funnels. She appears to have been out of service February - March 1903, which could be when she was rebuilt. She was also rebuilt 1911 - 1913, when she was converted to 2nd and 3rd class only.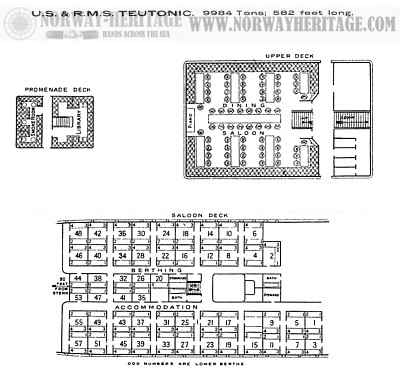 White Star Line steamship Teutonic
Support Norway Heritage: Purchase a copy
Second class plan, showing the saloon deck with berthing accommodation, upper deck with the dining saloon and the library and smoke room on the promenade deck.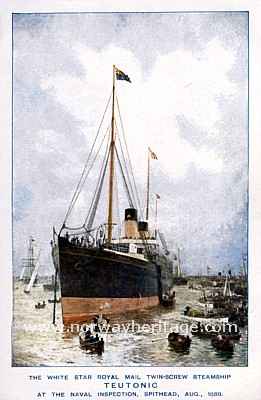 Picture of the Teutonic,
White Star Line steamship at the Naval Inspection, Spithead, Aug., 1889
Support Norway Heritage: Purchase a copy