The Valkyrien was built in 1868 in Bergen by J. Thrumpy & Sønn . Her tonnage was 593 gross tons, 543 net - 271½ Norwegian Commercial lasts. Owner was G. Thomsen in Bergen 1868 - 73, and C. H. Johnsen in Arendal 1873 - 1907.
The Valkyrien made her first voyage with emigrants in 1869. She departed from Bergen on May 4th, and arrived at Quebec on June 22nd. She was sailing in ballast, and was carrying 307 steerage passengers and 8 cabin passengers. There was an outbreak of measles on board. As the ship arrived at the quarantine station on Grosse Île, twenty were sick and there had been two deaths. There were two births on the voyage. That year the Valkyrien was mastered by Capt. J.G. Balchen, with a crew of 16. In 1873 the Valkyrien sailed from Bergen on what was to become a very dramatic voyage for the passengers and crew, after the ship collided with an other ship off Dover.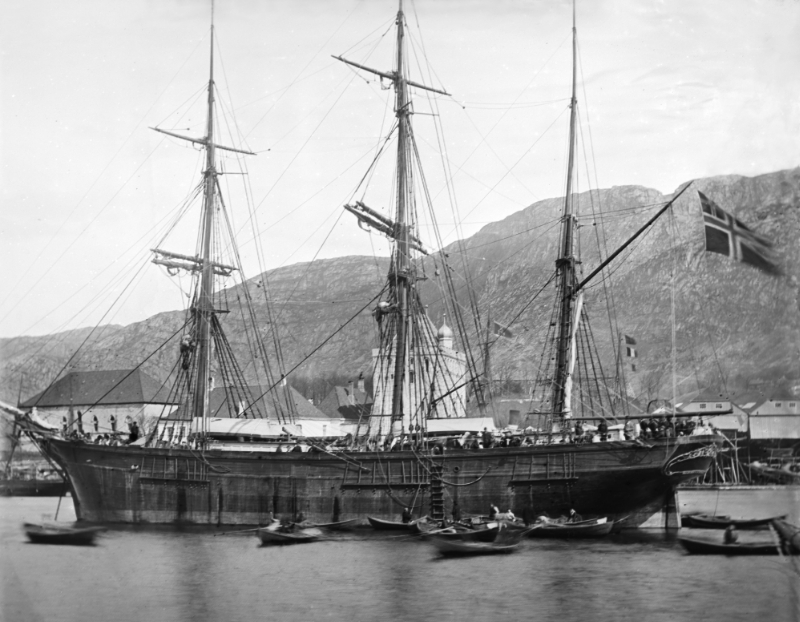 The bark Valkyrien at Bergen harbor in April 1873, preparing to depart with emigrants for America. - Photographer: Knud Knudsen. - Source: University of Bergen Library - License: CC BY-SA 4.0
The horrifying voyage on the Valkyrien from Bergen to Quebec in 1873
- This description is based on a voyage account from 1873, written by C. K. Fjærestad. It was printed in "Nordmæmdeme i Amerika, deres historie og record", Minneapolis, Minn 1907.