The bridge on a ship is the observation platform or partial deck built across and above a ship's deck for the use officers in directing the course.




This engraving was printed in "The Graphic" in 1879. The image shows sailors at work on deck of the Cunard Line steamship Gallia while crossing the Atlantic ocean. One can clearly see what is known as the BRIDGE of the ship. In the old days the bridge was actually a bridge, from where the commanding officer had a good overview and could shout his orders to all parts of the ship. Being on the bridge was quite a struggle in bad weather as the men on it were not protected like on modern ships today. When the Allan Line steamship Pomeranian ran into a severe storm i 1893, the bridge was carried away along with the chartroom and fore deck saloon, the second and third mate, 4 other sailors, and 4 passengers were swept to sea, the captain deadly injured.

Note that there is no steering wheel on the bridge on the picture, as the wheel was located abaft in the old days. The commanding officer on the bridge had to shout the order to the helmsman at the wheel abaft. As the ships became larger this became a problem, and the ability to conduct fast maneuvers reduced. This led to the development of mechanisms which permitted the ship to bee steered directly from the bridge or the area near by.

On the White Star Line steamship Adriatic (1), built 1872, the steering apparatus was fixed amidships, with a steam steering-wheel. In case of accident, a complete steering gear was also fitted up at the stern. It was possible to have communication between the stern and the bridge by what was known as "Gisborne's telegraph". The Inman Line steamship City of Berlin (built 1874) was steered by a patent steam steering apparatus, invented by Mr. J. Macfarlane Gray, which was placed in front of the chart-room, immediately under the eye of the captain or other officer in charge. All directions and orders were given by an electric telegraph worked upon the bridge, communicating directly with the wheel-house or the engine-room, and furnished with a "tell-tale" which showed exactly how the order had been understood and acted on. In addition to the steam steering gear, there was a steering apparatus in a wheel-house at the stern of the vessel. This was to be used in case of accident to the steam apparatus.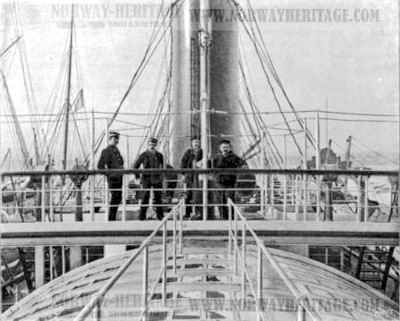 Officers on the bridge of the
City of New York (3)
(built 1888)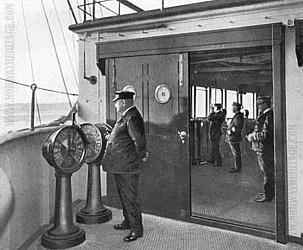 Bridge of the

S/S Maretania

of the Cunard Line.


The Mauretania was built in 1906, and the bridge was quite different from that of the Cunard Liner Gallia built in 1878. The "bridge not looking much like a bridge any longer, but the name still remains on modern ships today