The Canadian Pacific Line was a company under the Canadian Pacific Railway (CPR). The Canadian Pacific Railway Company was formed in 1881, and the company soon entered into ship-owning. In the beginning limited to transportation along Lake superior and the Great Lakes.
The transatlantic passenger service however, was not started before in 1903, when CPR took over the ships and service of the Beaver Line. The division was managed as the "Canadian Pacific Ocean Services" (C.P.O.S.).
Their first general agent in Norway was Albert Raffel in Kristiania (Oslo). In Trondhjem (Trondheim) the company was represented by head agent Oluf Ruud.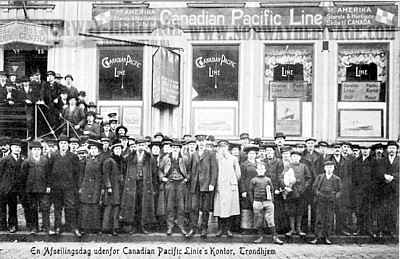 Picture of the Canadian Pacific Line
head offices in Trondhjem
This picture shows emigrants waiting outside the Canadian Pacific Line office waiting for the departure. The office was situated in Fjordgaten near the railway station and the harbor. From the office the emigrants would be escorted by the agents to the steamer, waiting just 2 minutes walk away, to take them to England. In England they would transfer to the transatlantic steamer for the ocean crossing. The head agent, Oluf Ruud was announcing in the newspapers with promises of good job opportunities in Canada.
The line's general agent was authorized by the Norwegian government to convey emigrants via England from Liverpool (or Bristol) to Quebec, St.John NB, Halifax, Montreal or Boston, and from there to the final destinations in America. The inland voyage naturally by the Canadian Pacific Railway. The police department in Kristiania was informed on Oct. 13th 1903 that the Beaver Line had changed name to Canadian Pacific Railway Co's Atlantic Line.
Their main transatlantic routes were:
Liverpool - Quebec - Montreal (summer)
Liverpool - St John, NB (winter)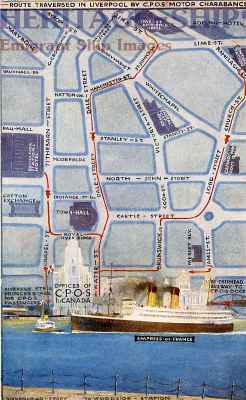 Route traversed in Liverpool by C.P.O.S. motor charabancs. It shows the Empress of France on the Mersey.
Routes from Lime St. Station & Hotel, Exchange Station Hotel and Central Station to Offices of C.P.O.S. down Water Street.
Riverside Street & Princes Stage for C.P.O.S. passengers
Support Norway Heritage: Purchase a copy