Year
Remarks
1901
Sept. 12, launched as the Ionian for Allan Line
1901
Nov. 21, maiden voyage Liverpool - Halifax - St.John
1914
Served as a troopship
1917
Taken over by Canadian Pacific Line
1917
Oct. 21, sunk off Milford Have by mine, 7 lives lost
The information listed above is not the complete record of the ship. The information was collected from a multitude of sources, and new information will be added as it emerges
Details: 8,265 tons gross, 7,683 under deck and 5,337 net. Bridge deck 103 feet and forecastle 56 feet. Water ballast. She was constructed of steel, had twin screws and triple expansion engines, 2 x 3 cylinders of 23, 38 1/2 and 66 inches diameter each pair, stroke 48 inches, delivering 604 nominal horsepower. The engine was built by the same company as the hull. She had one funnel and four masts, 3 decks and was fitted with refrigerating machinery. She had accommodation for 131 passengers first class, 160 second class and 800 steerage passengers. Call sign: SWLK. Official registration #: 113989.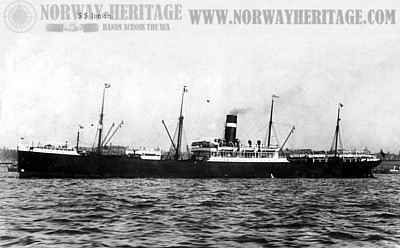 Picture of the S/S Ionian
, from an old postcard
Support Norway Heritage: Purchase a copy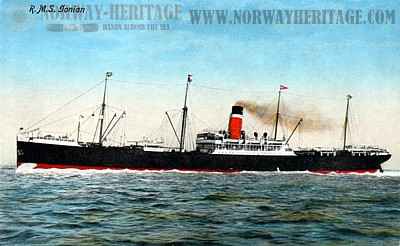 S/S Ionian in Allan Line colors
[old postcard]
Support Norway Heritage: Purchase a copy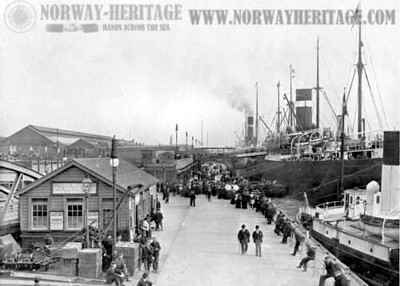 The S/S Ionian at Liverpool
Support Norway Heritage: Purchase a copy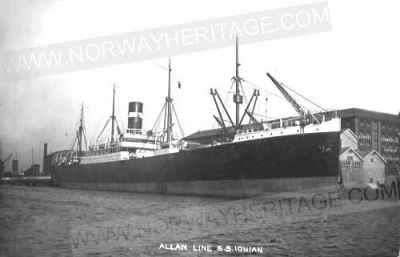 Photo of the Ionian
, from a photo postcard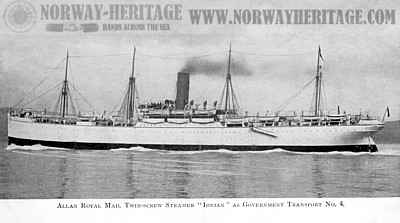 The Ionian as Government Transport No. 4 in WW1
Support Norway Heritage: Purchase a copy
IONI3