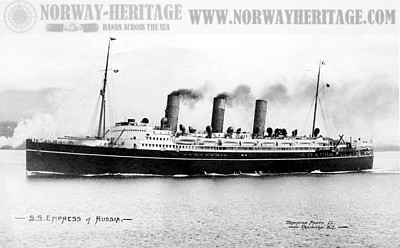 S/S Empress of Russia
Support Norway Heritage: Purchase a copy
The quadruple screw steamer Empress of Russia was built at Glasgow for the Canadian Pacific Railway Company's passenger service between the American continent, Japan and China. She left Liverpool on April 1 for the Pacific on a tour round the world with a large number of passengers. The chief particulars of the ship were:
Length over all: 590 feet
Length between perpendiculars: 570 feet
Breadth, molded: 68 feet
Depth, molded, to shelter deck: 46 feet
Gross tonnage: 16,800 tons
Mean draft: 26 feet 9 inches
Deadweight: 7,000 tons
Speed on service: 20 knots
She was built to Lloyds rules for shelter deck type, and was classed 100 A-1. She had four continuous decks extending for the full length of ship, and at each end there was an orlop deck. Above the shelter deck a combined forecastle and bridge deck extended to well aft of 'midships, and was carried on open supports from 'midships to the stern. Above the bridge deck there was a promenade or boat deck, which extended between the masts. She had accommodation for 200 first-class passengers, 100 second and 800 third class (
steerage
) passengers. The first class public rooms consisted of a dining saloon, library and writing room, lounge, card room, smoke room and veranda cafe, all of which were large and tastefully furnished. In addition there was a well-equipped gymnasium.
This was the first liner to have a straight stern like a warship, and the adoption of this type of stern gave very satisfactory results as regards speed, vibration, steering and seagoing qualities.
The Empress of Russia commenced her steaming trials on March 22, 1913. A series of progressive speed runs was made over the measured mile on the Clyde at speeds of from 12 to 21¼ knots. The contract required that runs up to 20½ knots should be made, and this was exceeded by ¾ knot. Following these progressive runs a further trial was carried out for a distance of 600 nautical miles. This distance was covered at an average speed of 20½ knots, which was ½ knot in excess of the contract requirements.
The propelling machinery consisted of Parsons turbines, driving four shafts. The two inner turbines were law-pressure, the port outer was a high-pressure turbine, which exhausted into the starboard outer turbine, which was the intermediate pressure. The two inner turbines were designed for driving the ship astern. The four turbines were arranged in one room, which extended for full width of the ship. The condensers and auxiliary machinery was placed in the auxiliary engine room just aft of the turbine room. Steam was supplied by six double-ended and four single-ended cylindrical boilers, having a total heating surface of 54,250 square feet and a total grate surface of 1,344 square feet, designed for a working pressure of 200 pounds per square inch. The boilers were arranged in three boiler rooms, and were worked under forced draft on Howden's system. The electrical installation consisted of four turbine-driven generating sets, each of 250 kilowatts capacity, while as a stand-by in case of complete breakdown of the main plant an 18-kilowatt generating set was installed on the shelter deck above the waterline.
[International Marine Engineering, Jan. 1914]