Year
Remarks
1900
Jan. 17, launched as the Tunisian for the Allan Line
1900
Apr. 5, maiden voyage Liverpool - Halifax - Portland
1900
May 10, commenced her first voyage Liverpool - Quebec - Montreal
1907
January, chartered to Canadian Pacific for four round voyages Liverpool - St. John. NB.
1914
Troopship for the Canadian Expeditionary Force on the homeward leg
1914
Sept. 4, commenced her last voyage Liverpool - Quebec - Montreal for the Allan Line
1915
Accommodation ship for German POW, Ryde, Isle of Wight
1915
Made several trooping voyages to Bombay and Gallipoli
1917
Taken over by Canadian Pacific Line
1918
Nov. 12, first voyage after Armistice, London - St. John, NB
1918
Dec. 23, Liverpool - St. John. NB
1919
Sept. 23, first voyage on the London - Quebec - Montreal run
1921
Accommodation altered to carry 310-cabin and 736-3rd class passengers
1921
Converted to oil fuel by D. & W. Henderson, Glasgow
1921
Apr. 6, first Glasgow - St. John, NB. voyage
1922
Renamed Marburn
1924
Dec. 13, first Antwerp - St. John, NB. voyage. Subsequently she ran between Hamburg, Glasgow, Antwerp or London to St. John, NB. or Montreal - Quebec
1928
May 9, laid up at Southampton
1928
Scrapped at Genoa
The information listed above is not the complete record of the ship. The information was collected from a multitude of sources, and new information will be added as it emerges
Details: - length 500,6 feet (152,55m.) x beam 59,2 feet (18,3m.), hull of steel, 4 decks, forecastle 54 feet., bridge 177 feet., and poop 40 feet. She had one funnel and two masts. Twin screws,
triple expansion engine
, 2 x 3 cylinders delivering 871 nominal horse power giving a speed of 14 knots. There was accommodation for 240-1st, 220-2nd and 1,000-3rd class passengers.
Marburn, Canadian Pacific Line steamship
Support Norway Heritage: Purchase a copy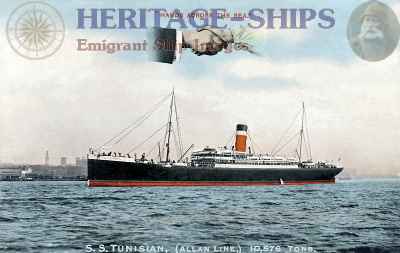 S/S Marburn in Allan Line colors as the S/S Tunisian
, from an old postcard
Support Norway Heritage: Purchase a copy
MARBU