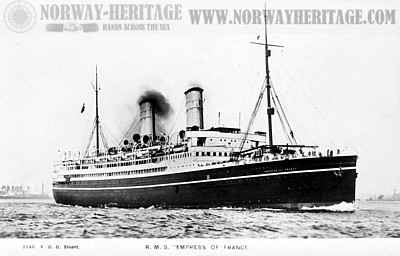 Empress of France (1), Canadian Pacific Line steamship
Support Norway Heritage: Purchase a copy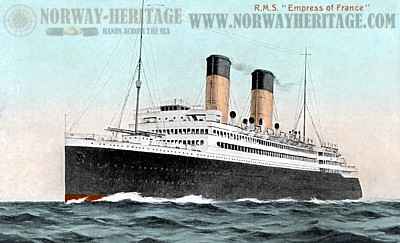 Empress of France (1), Canadian Pacific Line steamship
Support Norway Heritage: Purchase a copy
The
S/S Empress of France (ex. Alsatian)
was the sister ship of the
Calgarian
The text below is out of a booklet issued by the Allan Line ca. 1912
New Steamers St. Lawrence - Liverpool Service
"Alsatian" and "Calgarian"
18,000 Tons Register - Quadruple Screws - Turbine Engines
In pursuance of their traditional policy of giving the travelling public the best which lies within their power, the Directors of the Allan Line are now having constructed on the Clyde two new steamers - to be named the "Alsatian" and "Calgarian" - which are intended to represent in comfort, convenience and spaciousness the apex of the builder's art. These steamers will be of about 18,000 tons gross register, and therefore the largest liners on the St. Lawrence Route. They will be driven by the latest type of turbine engines operating four screws, giving them a speed of 18 to 20 knots. The distribution of the power over four separate shafts reduces the vibration to such a degree as to make it almost imperceptible. The passenger appointments of the steamers will embody every up-to-date device for the enjoyment of ocean travel, and they will be fitted with the most perfect system of heating and ventilation. The fittings of the general rooms, which will occupy the entire structure on A Deck, will harmoniously blend luxury and comfort, the decorations being en trusted to firms whose names are world-famous. The public rooms will comprise the Lounge, Library and Reading Room, the Card Room, and the Smoke Room. On the Upper Promenade Deck there will be a Cafe, Smoke Room and Gymnasium. The promenade decks - which will constitute a special feature of the ships - are of great length and spaciousness, with extensive closed-in Promenade for recreation in all kinds of weather. The steamers will carry 250 first class, 500 second class and 1,000 third class passengers. Externally the "Alsatian" and "Calgarian" will maintain the "Allan" reputation for beauty and grace of design. They will be fitted with two pole masts and two funnels, and a striking feature in their appearance will be the "cruiser" stern, hitherto peculiar to warships. Safety is of course, the paramount consideration, and the application of the latest design in ship construction and the adoption of the most modem equipment will be utilised to ensure this, including wireless telegraphy and the latest submarine signalling apparatus. No effort will be spared by all concerned to make the steamers popular with all classes of passengers, and it is expected they will be special favourites with ocean travellers from the first voyage.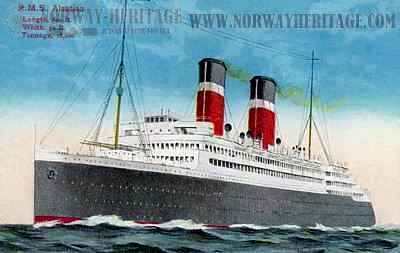 The S/S Empress of France in Allan Line colors as the Alsatian