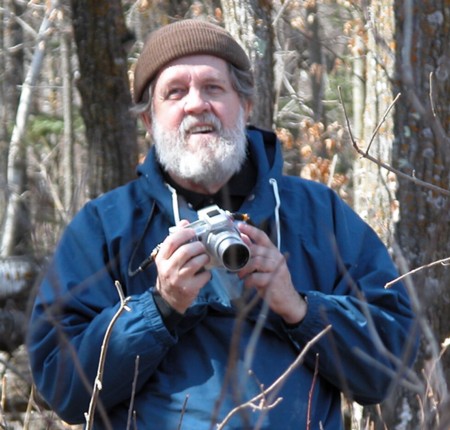 Clair O. Haugen



The Norwegian Heritage website lost a valued friend on July 31, when Clair Haugen passed away at his home in Moorhead, Minnesota. Clair was a frequent contributor to this website over many years. He was also a wise counsellor on the structure and management of the site. Clair was an accomplished scholar, with sterling academic credentials, and after retiring from university life applied his keen intellect and scholarly abilities to studying family history, the history of the Great Migration from Norway to North America in the second half of the 19th century, and Norwegian cultural history — especially those aspects that found their way to America.

Clair Oliver Haugen was born April 11, 1935, near Henning, Minnesota. He graduated from Fergus Falls High School in 1953; earned his bachelor's degree from Concordia College, Moorhead, Minnesota and his master's and doctorate from the University of Wisconsin-Madison. He taught his entire career at Concordia College in the speech communications theater arts department, retiring in 1997.

Clair was a scholar of the first order, and he applied his academic skills acquired from nearly 40 years as a college professor to the mission of this website. In keeping with his academic training, Clair was a careful researcher who approached topics with an open mind and a healthy dose of scepticism. His academic scepticism made him wary of stories that seemed too good to be true or stories that appeared to cover up inconvenient facts. He knew from experience that oral history in family accounts, even those accounts from first-hand witnesses, were at best half right. Clair preferred to work with original source materials instead of relying on accounts provided by others. He preferred to do his own translations as he was always wary of less careful translators who tried to "improve" the original historical account. Clair's translations contained many footnotes explaining his thinking about the word choices he made. These footnotes reflected the complete honesty of his approach. He wanted to communicate with future scholars by leaving a transparent record of his translations. Clair wanted his work to endure scrutiny and he wanted his work to last. Clair's primary interest was in advancing our collective knowledge of the Norwegian emigration experience and he took care to leave a complete record for future scholars to use as a reliable basis for further research.

Perhaps Clair's proudest moments came from his contributions to the Hannah Parr Project. The Hannah Parr was the ship upon which Clair's ancestors sailed to North America in 1868. Clair's account of this voyage makes the crossing of the Hannah Parr one of the best documented of any emigrant voyage. The unusual circumstances of the journey—the fact that the ship wrecked at sea, forcing a seven-week sojourn to Limerick, Ireland—confirmed much of what he had learned from bits and pieces of oral history that had been handed down to him. But Clair discovered a much richer story that took on a life of its own. In his research Clair joined forces with many others, including other descendants of the ship's passengers, Norwegians interested in emigration history, and Irish friends who were touched by the story of 400 shipwrecked and destitute Norwegian emigrants aided by citizens of Limerick in the months of May and June 1868.

In 2006 Clair assisted Niamh Bowen and the Island Theater Company in Limerick to produce a play about the Hannah Parr experience. In 2008, Clair helped write, produce, and voice a radio docudrama about the emigrants' experience in Ireland that was broadcast nationally at the time of the 140th anniversary of the Hannah Parr's arrival in Limerick. Clair's collaboration with Irish scholars and Limerick civic leaders led to the Hannah Parr Festival in Limerick in 2008. Clair was pleased that as a result of his research he was able to discover the names of the three Norwegian children who died and were buried during the 1868 sojourn in Limerick, and he was especially delighted when their graves in the St. Muchin Church graveyard were identified and marked by the Limerick Civic Trust. He also took pride in knowing that his work helped lead to the placing of historical markers in Limerick commemorating the Hannah Parr episode, and the development of a Hannah Parr memorial garden complete with a Norwegian rowan tree. Clair was also pleasantly surprised when the President of Ireland, Mary McAleese, used the Hannah Parr story as a way to link the experiences of the people of Ireland and Norway during a speech she gave on her state visit to Norway in 2008.

Clair enjoyed solving historical mysteries and took considerable delight in recovering even the smallest pieces of lost history surrounding the lives of our ancestors. Clair had an amazing ability to resolve age-old mysteries by ignoring received wisdom and applying his own independent brain power and judgment. Clair marvelled at, and enjoyed, the serendipity of the research journey. For example, in his correspondence with fellow researchers in Gausdal, he learned that a 19th century Norwegian soothsayer, Vis Knut, is said to have warned the Hannah Parr passengers that their voyage was to be especially dangerous. Clair filed this story away as an interesting and amusing tidbit, but remained sceptical as to whether any of the passengers would have regarded Vis Knut's warning as credible. Then, about five years ago a Hannah Parr descendant in South Dakota came forward with an unmarked tintype photo found in a trunk that had been onboard the Hannah Parr. To Clair's surprise he was able to verify that the photo was of Vis Knut, forcing him to rethink the relationship between the passengers and the soothsayer, and also to rethink the credibility the passengers may have assigned to Vis Knut's warning.

In addition to the Norwegian Heritage website, Clair was involved in other activities related to Norwegian emigration and cultural history. He was a volunteer at the Hjemkomst Interpretive Center at the Historical and Cultural Society of Clay County (Minnesota). Clair also enjoyed another aspect of Norwegian-American culture—humor. Clair always appreciated a good joke about anything Norwegian and/or Lutheran.

Clair acknowledged that there was a strong spiritual dimension to his work. In researching his ancestors, Clair felt closer to them. And now Clair has followed his ancestors by embarking on the long journey from which no traveller returns. Knowing Clair the way we do, we can only imagine him taking careful notes about his voyage and eagerly (and sceptically) listening to the accounts of those he meets along the way, while sharing a wry joke. He will be greatly missed.