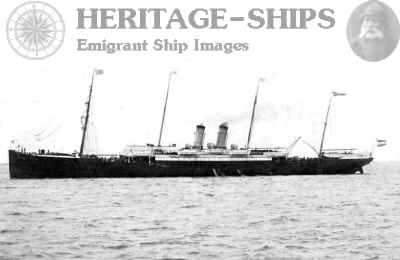 Aller, Norddeutscher Lloyd steamship.
Support Norway Heritage: Purchase a copy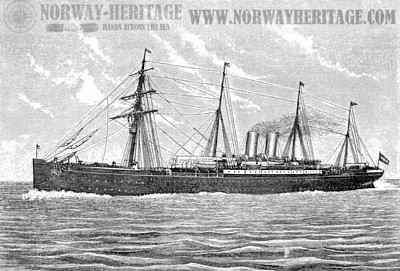 Aller, Norddeutscher Lloyd steamship
Support Norway Heritage: Purchase a copy
The Aller was the first of 3 sisters built for the North German Lloyd by Fairfield Shipbuilding & Eng. Co. Ltd. In 1886. The other sisters were the
Saale
and the
Trave
. The Aller had accommodations for 244 first-class, 94 second class, 850 steerage passengers in addition to 170 officers and men. Her upper deck was of oak and the deck houses of teak and steel. Strongly built turtle backs at each end protected her from heavy seas. Her dining saloon was a spacious apartment 50 by 40 feet, and was lighted by an open well from the ladies' saloon on the upper deck. Special attention had also been paid to the ventilation of the
Steerage
. Her
machinery
was considered to be first class in every particular. She was fitted with the largest
triple expansion engines
yet constructed. The high-pressure cylinder was 44 inches, the intermediate pressure cylinder 70 inches, and the low-pressure cylinder 108 inches in diameter, each adapted for a stroke of 6 feet. All the cylinders were provided with equilibrium piston valves. The boilers were six in number, multitubular, and fired from each end. Each was 14 feet 2 inches in diameter and 18 feet 9 inches long, and had 6 corrugated furnaces. The boilers were entirely of steel, and sustained a pressure of 150 pounds to the square inch. The propeller had four blades of man bronze.
Aller - Norddeutscher Lloyd steamship
Support Norway Heritage: Purchase a copy