The bark Amelia was built in 1847 at Medford, Mass. USA. Her burden was 306,7 Norwegian Commercial lasts (637 gross). Her dimensions were: 136,7 feet length, 29,1 feet beam and 20,4 feet depth. The Amelia was owned by P. M. Petersen of Porsgrunn 1858 - 1872. Petersen started a shipping company in 1855. Petersen would let his ships be refitted to take emigrants while in port at Porsgrunn during the winter. The hold was equipped with a temporary between-deck (steerage), with temporary berths. The emigrant ships departed early in the spring for America. As soon as the passengers left the ship, the temporary fittings, and the between-deck would be taken away, and cargo, mainly timber would be taken on board for the return. The timber was most often taken to England. In 1872 Amelia was sold to S. Mørk in Sarpsborg, and in 1896 she was turned in to a pier, and later burned.
In 1858 The Amelia sailed from Bergen to Quebec with emigrants, mastered by Capt. Petersen. She arrived at Quebec in June after a crossing of 29 days. Because the National Archives of Canada [NAC] did not start the archiving of passenger lists before 1865, and the Norwegian emigration records did not start before 1867, there are no surviving passenger lists for the voyages prior to 1865 described on this page in any of those archives. Timeline to records.
In 1859 the Amelia departed from Porsgrund April 23rd, mastered by her owner, Capt. P. M. Petersen. She arrived at Quebec May 27. The booking agent was J. Ericksen in Skien. The announcement said that the Amelia had a copper hooded hull, and the steerage was 7½ feet high, airy, light and spaciously. According to the agent, the ship was specially built for taking passengers. The Amelia was equipped with two cabins, and could take cabin passengers if requested.
In the newspaper "Correspondenten" June 29, 1959, there was printed a letter from the passengers on the Amelia:
Arrived in Quebec May 27, after 34 days at sea, all passengers healthy and well.
Captain P. M. Petersen, aboard the Amelia from Porsgrunn!
We undersigned emigrants, who after a fast and happy journey have arrived in Quebec, can not leave you, without showing our gratitude to you, for the good and human treatment you have shown us on the crossing from Porsgrunn to Quebec. Next after Gods help, it is you we all should thank for arriving in good health.
 
The passengers gives the Captain the honor for keeping a clean and proper ship, and recommends the ship and Captain to others. The letter was dated Quebec May 30, and signed by:
G. Bakke from Tind, Søren H. Finsæter, Christian P. Kaasa, both from Hjerdal, Tron Chr. Uhlefos, Ole O. Bakkemoen, Ole O. Aaslandsen jun, Kittil Olsen Kasine, all from Siljord, Svend S. Braali, Carpenter Ole Svendsen, Augen O. Flateland, Gulmund H. Findreng, Stener M. Udsund, all from Hvidsøe. Niels Olsen Kleven, Jørgen P. Kleven, Aasmund R. Horgervigen, all from Nissedal. Margit Iversdatter from Moe, Knud A. Buli, Bergit G. Buli, Svennung O. Hægtvedt, Thov T. Mogen, all from Laurdal, Gunder G. Næs from Flaabygd, Torgine Nielsen from Staværn, Saave Halvorsdatter from Moland, Torsten R. Ullevigen, Tollef S. Skogen, both from S?usde, Ingeman T. Kittilsland, Ole R. Stugrud, Niels H. Stugrud, Ole H. Hagen, Stener T. Stugrud, Niels O. Mogstuen, Knud Ingebretsen, Ole R. Fikaneie, Niels T. Fjose, Gulbrand O. Mogstuen, Kittil O. Kirkjordet, Liv Tollefsdatter, Ingeborg Knudsdatter, Tonnei Nielsdatter, God P. Hellevammen, Lars G. Kyllestad, Ole K. Laugen all from Nummedal, Halvor J. Rosshuus, Anund O. Hamarsnæs, Halvor E. Hamarsnæs all from Vinje, Gullik Kittilsen from Tinn.
In 1860 the Amelia was mastered by Capt. H. Iversen from Porsgrunn to Quebec. She arrived at Quebec on June 4. Again there was sent a letter by the passengers to the newspaper to praise the Captain and the ship.
The Amelia arrived in Quebec June 4th, all passengers healthy and satisfied. The letter to the newspaper was signed by:
Greger H. Bøen, Kittil T. Klokkergaarden, Anders O. Tvedten, Halvor K. Haave, Halvor O. Sagflaati, John P. Rui, Halvor O. Sjøetvedt, Gjermund T. Dale, Niels O. Bøen, Torjer G. Moflaati, Ole O. Bastvedt, Helg. H. Bøen, Ole G. Bøen, All from Tind and Granshered. Thor J. Tvedt, Jacob A. Tvedtene, Gullik T. Midtbøe, All from Nissedal Anders K. Hellem, Ole N. Hæsrekaasa, John A. Aasildrud, Halvor H. Haaberg, All from Hitterdal. Ole J. Fladland, Thorbjørn O. Kaasa, Niri G. Nordbøe, Christian E. Aabøe, All from Hjerdal. Gjermund J. Omnæs from Bøe. Thorbjørn K. Hemmestvedt, Stener O. Nordskog, Johans H. Kirkebøer, All from Hvedesøe, Ole T. Riisøe from Vraadal. Aadne S. Tvedten from Moland. Gunder K. Bolstad, Knud G. Bustrak, both from Tørdal. Knud A. Lie, Tallef T. Qvaalen, Kittil T. Aamyren, Aslak O. Tvedteggen, All from Vinje. Guldmund S. Triset from Laurdal. Claus O. Aasheim from Siljord. Rasmus O. Stensland, Osmund O. Tingren, Anne M. Omeland, All from Hægebostad. Peder B. Roslandalen from Bamble, Knud P. Lyskjend from Slemdal. Anders H. Furuvold from Gjerpen. L. Nielsen from Kragerø. Ole Olsen Saaby, Christian Olsen, J. A. Thomsen, H. Bentsen, All from Skien. O. A. Bergh, Marie E. Olsen, Otto Olsen, C. Andersen, Peter L. Berg, All from Sarpsborg. Anders Anderson from Sweden.
In 1861 the ship was announced with departure from Porsgrunn on April 20. She arrived at Quebec on June 8 carrying 376 passengers. She was mastered by Capt. Iversen
In 1862 the Amelia departed from Porsgrunn Apr. 16 and arrived at Quebec June 20. On the 1862 passage, the passengers on Amelia were hit by disaster. There was an outbreak of typhoid fever and measles. 49 of the 280 passengers died during the crossing, and when the ship arrived in Quebec 170 of the survivors were hospitalized, 31 of them died at the hospital. After this journey the Amelia did not sail with emigrants again before in 1867 and 1868.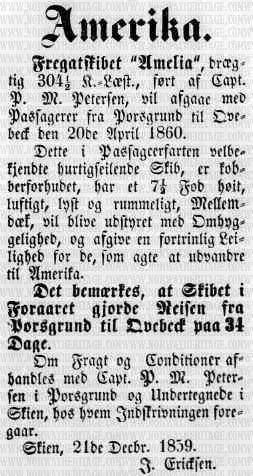 Newspaper announcement for the conveyance of emigrants on the Amelia
printed in the "Correspondenten", Dec. 24th 1859