The bark Anna Delius was built in 1854 at Bremen, Germany. Her burden was 337 Norwegian Commercial lasts. Her dimensions were: length 148 feet, beam 30,8 feet and depth 20,5 feet. The Anna Delius sailed from Norway to Quebec with emigrants during the years 1866 - 1871. She was owned by N. O. Young in Christiania.
In 1866 she left Christiania on May 5th. She was sailing in ballast, and was carrying 313 steerage passengers. Two children died during the crossing, one of bronchitis and one of spinal meningitis. On June 2nd the infant Erik Eriksen, son of Erik Johnsen Eeg (32), and Karen Eriksdatter (32) died and on May 24th the child Beatha Olsdatter, daughter of Ole Hansen Skegan (42), and Mari Olsdatter (45) died. On June 1st there was a birth; child of Otte Cappelen Simensen Haug (32), and Andrine Pedersdatter (36), and on may 16th an other child was born. She was mastered by Capt. Neils Th. Iversen and had a crew of 17. She arrived at Grosse Île June 6, cleared the same day, arrived at Quebec at June 7. The 1866 passenger list was archived by the National Archives of Canada [NAC].
In 1867 the bark Anna Delius departed from Christiania on April 29th, and arrived at Quebec on June 1st. She departed 410 passengers and arrived with 408. There had been four deaths and two births on the voyage. She was mastered by Capt. Niels Th. Iversen. The passenger list for this voyage, and the others described below, was archived by the National Archives of Canada [NAC], and the passengers were noted in Christiania police emigration records.
In 1868 the Anna Delius departed from Christiania on April 26th, and arrived at Quebec on June 21st. She was carrying 386 passengers. There had been 7 deaths on the voyage. Master was Capt. Neils Th. Iversen.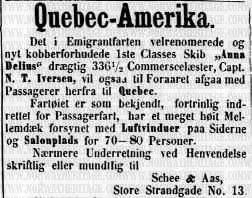 Newspaper announcement
"Hamar Stiftstidende" 19. Jan. 1869.
In 1869 The Anna Delius departed from Christiania on April 28th, and arrived at Quebec on June 12th. She was sailing in ballast and was carrying 389 steerage passengers. There were two births, and three (four) deaths on the voyage. Three children died of diarrhoea and debility. Deaths: 1. girl baby born and died May 12th, daughter of Hans Olsen(27) and Marie Gudmundsdatter(32) 2. May 24th, Maren Carlsdatter(2½), daughter of Marie Amundsdatter(36) 3. June 2nd, Johan(3), son of Even Olsen(42) and Marthe Torkilsdatter(33) 4. May 12th, Anders(3 weeks), son of Hans Chr. Christiansen(34) and Gundhild Evensdatter(27). The Anne Delius was mastered by Capt. N. Th. Iversen, and had a crew of 17 on the 1869 voyage.
In 1870 the bark Anna Delius departed from Christiania on April 29th, and arrived at Quebec on June 19th. She was sailing in ballast and was carrying 298 steerage passengers. There was one birth on the voyage, on June 6th, son of Peder Pedersen Rüde. There was also one death, on June 16th, Kirstine Ellingsdatter (71) died from dysentery. Like the year before the ship was mastered by Capt. Capt. Neils Th. Iversen. She had a a crew of 16.
In 1871 the bark Anna Delius departed from Christianian on April 23rd, and arrived at Quebec on June 7th. She was sailing in ballast, and was carrying 273 steerage passengers. There was one birth on the voyage, on May 22nd, son of Iver Paulsen (33) and his wife Ingeborg Pedersdatter (30) was born. There was also one death, on May 29th, the son of Lars Gulbrandsen and his wife Bertha was lost overboard. Mastered by Capt. N. T. Iversen, with a crew of 16.
The following is a voyage account written by Mikkel A. Mellum, from an article by B. E. Lund, printed in
"Gammelt frå Stange og Romedal" issued by Stange Historielag 1975.
Mikkel Mellum was 10 years old when he crossed the Atlantic with his family. The account was written some time later in his life. Mikkel states that the family left from their home at Espa on April 17th 1867. It was a heartbreaking farewell for the women, they compared it with a funeral for the living. The family traveled across the ice covered lake "Mjøsa" to "Minnne". The next day they proceeded to "Edsvollbakken" to take a train to Christiania. They had to stay in Christiania for 3 days, while the luggage of the passengers were taken aboard. [The dates of departure of the ship does not correspond with those given in the passenger lists]
It was an old ship named "Anadelius" and the captains name was "Iversen". The ship had space to accommodate 300 passengers, but they managed to put in 400, as there were a lot of people that wanted to get on. I can't remember other names than Syverin Hjermestad and Aslak Hellum. When we had boarded the ship we were shown our berths, the only place where we could stay while we were between decks. There were two berths on top of each other, and in front of them we had a little space where we could eat our food. The ship supported the passengers with water and wood to burn. One of the officers handed out rations every day.
The pilot left the ship off Færder lighthouse, and that was when the ship really started rolling. Many of the passengers were up on deck to say a last farewell to Norway. I remember some women full off homesickness wanting to go back as the mountains sunk into the ocean. Almost all of the passengers became seasick, and everywhere people were throwing up. Dad and I managed quite well, but my mother and brother were sick.
I had found allot of new friends to play with, and we ravaged around. We climbed in the rope ladder, but we had to be careful that the sailors did not see us. They would drive us down, but occasionally we would get up in the mast before they spotted us. But we did something much more dangerous too. On the outside of the hull there was a ledge of about 8 inches, we climbed over the rail and down on it. When we were standing on it we could just grab on to the rail with our hands. Then we balanced along the ledge without holding on with our hands. Of cause this was done when the sea was calm. When I sit her today as an old man thinking about it, I am shivering. I was dreaming about becoming a sailor when I grew up. But it was the prairie for me, not the sea.
We only experienced one storm, and that was in the mid of the Atlantic. One night as we all were laying in our berths, some of the sailors came down shouting that we had to fasten our selves to our berths, as there was a storm coming. And just as they said the storm hit us with terrible effects. Chests and other baggage was thrown around, and many of the people sleeping in the upper berths were also thrown out of their berths. Luckily it did not last for long, as we were in the periphery of the storm.
A boy did on the Atlantic, and another was born. I will never forget the funeral. The ships carpenter made a coffin of rough planks, and filled it with sand in the bottom. Then he bored holes in the side to make it sink faster. But it did not sink fast, and as the wood in the coffin had a pale color we could watch it for a long time as it was slowly sinking.
It was an experience to watch the huge icebergs passing by. On a distance it would look as a white thunder sky, but as we came closer we could see that it was actually a mountain of ice.
We had a smooth journey after the storm, all the way until we were off Quebec. It was a narrow entrance and unfavorable wind. The Captain then hired a steamer to take us in to the shore. After that it took some time to unload all the luggage, and to have it transported over to the railway station. I believe it took about 2 days to get the job done. The weather was warm, and it felt lovely to have solid ground under our feet.
From Quebec to the US border we traveled in carriages with upholstered seats, but after the border the carriages were much simpler. They looked like cargo carriages and had wooden benches. As it became very warm inside the train, people climbed up on to the roof where they sat like crows. I was sitting next to my father on the roof of a carriage. Dad fell a sleep but then the brakeman waked him, he told us to hold on because the speed would increase as we were going downhill... Our next destination was Chicago. That is when our trouble really started as our final destination was Rushford in Fillmore County, Minnesota, but we had no more money to travel for.
Mikkel continues the story about their struggles in the new country.