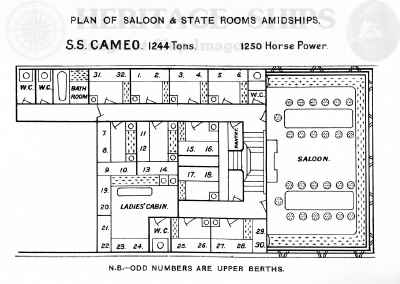 Camoe - Wilson Line steamship, cabin plan
Support Norway Heritage: Purchase a copy
Tonnage: 1,272 tons gross, 939 under deck and 833 net. Poop 155 feet long and forecastle 28 feet long. Rigging: iron construction, single screw 3 masts schooner rigged, 2 decks, 1 of iron and 6 bulkheads. Propulsion:
compound engine
with 2 inverted cylinders of 33 ¼ & 64 ½ in. diameter respectively, stroke 42 inches, 170 horsepower. The engine was built by the same company as the hull. When built she was equipped with accommodation for 43 passengers on first class, 14 on second class, and 413 on third class (
steerage
).
This ship was serving on a number of different routes between Norway and Britain, as can been seen from the table above, but mainly on the London route. However, she was never regular on any of the routes and it seams as if she was mostly used as a relief vessel. on March 27th, 1895 she departed Trondheim for Hull via Christiansand and Aalesund and ran aground near Aalesund. The hull was seriously damaged after the grounding and she had 14ft long, and 1ft wide hole in the bottom, and the ship was filled with water and sank till all of the stern was under water. A contract was made with the company "Weideman" of Trondheim to salvage the ship and cargo. The ship was then salvaged, but had to undergo serious repairs. She was then re-engined with a
triple expansion 3 cylindered engine
delivering 161 NHP. In September 1908 she was sold to T. W. Ward, Preston for scrapping.
[The Wilson Line of Hull, 1831-1981 by A.G.Credland & M.Thompson][Lloyd's register of ships][Wilson Line, by John Harrower][Morgenbladet 1877-1907][Trondjems Adressekontors Efterretninger 1877-1907]