Constructed of Iron with 2 decks, a clipper steam, 2 funnels and 3 masts (ship rigged). She had a single screw, a
compound engine
with 2 cylinders (72in. and 120 in. which was the largest yet installed at the time of building. The steam pressure was 80 lb per sq in.). The engine delivered 750 HP, giving the ship a service speed of 14 knots. Engines were built by Caird & Co, Greenock, the same company as the hull. She had accommodation for 125 1st class, 80 second class; and 1,310
steerage
passengers. The S/S City of Chester was the sister ship of the
S/S City of Richmond
, they were the first two funnellers of the company.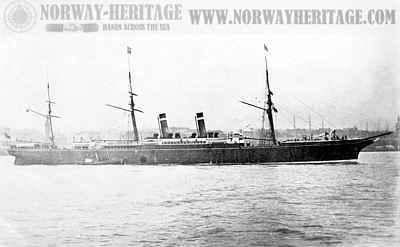 The Chester as the City of Chester in Inman Line service
Support Norway Heritage: Purchase a copy
The company obviously had great expectations to these two ships as to gain the Blue Riband of North Atlantic, from the
White Star Line
ship
S/S Adriatic
, which had made the record crossing from Queenstown to New York in 7 days, 23 hours and 17 min, but none of them ever gained the Blue Riband. However the
City of Chester
and the
City of Richmond
were specially built for the passenger trade, and were equipped with the best of what was available at the time, to meet the comfort of the passengers. A contemporary account stated: "The internal arrangements of the CITY OF RICHMOND are very convenient. The saloon, as near amidships as it can be, is a splendid apartment, 44 x 42 feet [13,41 x 12,80 metres], fitted in a luxurious and tasteful manner. The staterooms are well- ventilated and commodious. They are supplied with hot and cold water and are fitted with pneumatic communication and Broadfoot's washing- basins. In addition to the rooms already mentioned are two ladies' boudoirs, one on the upper deck and one immediately adjacent to the saloon. For those who are fond of tobacco there is a capacious smoking room".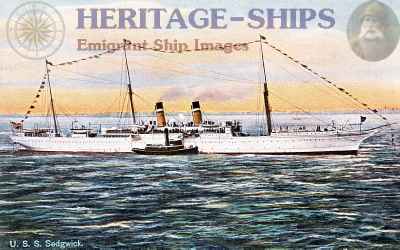 The S/S Chester as the USS Sedgewick in the Spanish American War
Support Norway Heritage: Purchase a copy