Year
Remarks
1878
Nov. 12, launched for the Cunard Line as the Gallia
1879
Apr. 5, maiden voyage Liverpool - Queenstown - New York
1896
Chartered by Cia Trasatatlantica, became "Don Alvaro de Bazan"
1896
Reverted to "Gallia"
1897
Acquired by the Beaver Line, name remained "Gallia"
1897
Nov. 20, first voyage Liverpool - Halifax - St. John, NB
1899
Acquired by Allan Line name remained Gallia
1899
Stranded near Sorel Point near Quebec, salvaged
1900
Scrapped at Cherbourg
The information listed above is not the complete record of the ship. The information was collected from a multitude of sources, and new information will be added as it emerges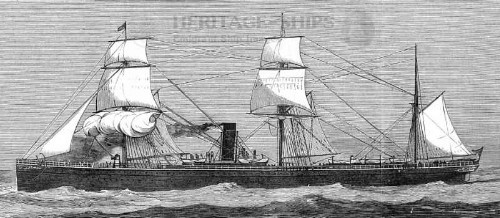 S/S Gallia in Cunard Line service
Support Norway Heritage:
Purchase a copy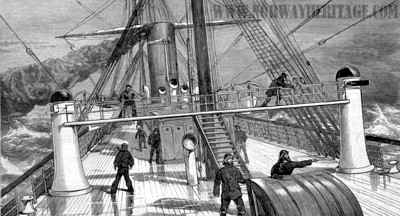 The main deck and bridge
Support Norway Heritage: Purchase a copy


This old engraving was printed in "The Graphic" in 1879. It shows sailors at work on deck of the Cunard Line steamer Gallia while crossing the Atlantic ocean. On this picture you can clearly see the BRIDGE of the ship. In the old days the bridge was actually a bridge, from where the commanding officer had a good overview and could shout his orders to all parts of the ship. Being on the bridge was quite a struggle in bad weather as the men on it were not protected like on modern ship today.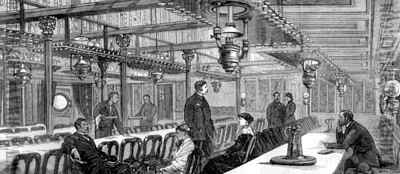 The saloon
Support Norway Heritage:
Purchase a copy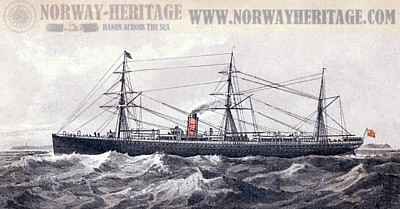 Cuard Line sisters Gallia, Bothnia (1), Scythia (1)
Support Norway Heritage:
Purchase a copy
GALLK