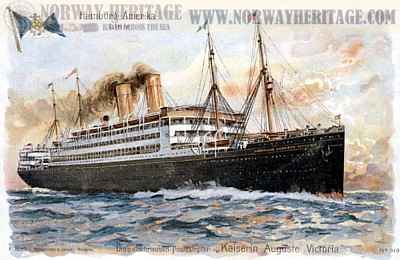 Kaiserin Auguste Victoria, Hamburg America Line steamship
Support Norway Heritage: Purchase a copy
Originally laid down as the
S/S Europa
but was launched as the
S/S Kaiserin Auguste Victoria
for the Hamburg America Line. At the time of her launching she was the largest ship in the world. She had a tonnage of 24.581 gross tons, 20.401 under deck and 14.847 tons net. Her dimensions were: length 677.5 feet, 77.3 feet beam, and holds 50.2 feet deep. The bridge deck was 354 feet long and the forecastle 84 feet. She had two funnels, four masts (schooner) and twin screws. Propulsion:
quadruple expansion engine
with 8 cylinders of 36, 53, 75 and 106 inches diameter each pair, and stroke 65 inches. This engine delivered 1.810 nominal horsepower which gave the ship a maximum speed of 18 knots. Her service speed was 17,5 knots. The engine was built by the same company as the hull. She had 5 decks and 4 shade decks, was fitted with electric light, submarine signalling device, wireless and refrigerating machinery. There was accommodation for 472 first class passengers, 174 second class passengers, 212 third class passengers and 1608 forth class (
steerage
) passengers. She had a crew of 593 persons. During the WW1 she was laid up at Hamburg and in March 1919 she surrendered to Britain and was chartered to the US Shipping Board who used her to repatriate troops from Europe.
In 1926 she was converted to 1st, 2nd, tourist and 3rd class accommodation and in 1927 to 1st, tourist and 3rd class only. She made her last voyage from Southampton to Cherbourg and Quebec on October 11th, 1930 and was then sold for scrap when the new S/S Empress of Britain (2) came into service. She was gutted by fire and sank in the shipbreakers yard at Blyth, raised and scrapped. Code letters: RPDF.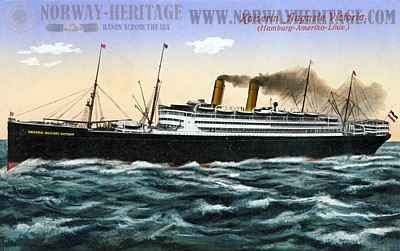 S/S Kaiserin Auguste Victoria [old postcard]
Support Norway Heritage: Purchase a copy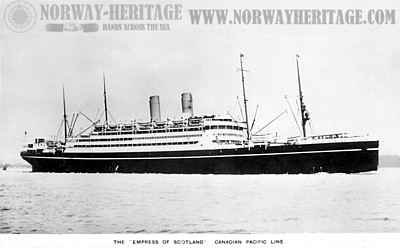 Photo of the Kaiserin Auguste Victoria as the S/S Empress of Scotland (1), Canadian Pacific Line
Support Norway Heritage: Purchase a copy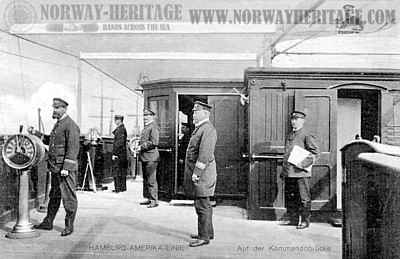 The Captian and officers on the bridge of the Kaiserin Auguste Victoria
Support Norway Heritage: Purchase a copy