The
bark
Nordpolen was built 1815 in Stockholm, (ex. Scandinavien). She was owned by M. S. Tveten in Grimstad. She was mastered by Capt. Christopher Olsen Voxholdt. In 1851 her burden was 168 Norwegian
Commercial lasts
.
Her first crossing with emigrants from Norway was in 1850, when she departed from Grimstad, and arrived at New York Sept. 20th. Master was Capt. Andersen. The passenger list for this voyage was archived by NARA.
In 1851 she arrived at Quebec on October 1st, from Grimstad and Christiansand. On this crossing the supplies ran short and the captain had to take the ship in to St. Johns, Newfoundland. According to our information the voyage had taken 114 days from Grimstad. Master was Capt Olsen. Because the National Archives of Canada [NAC] did not start the archiving of passenger lists before 1865, and the Norwegian emigration records did not start before 1867, there are no surviving passenger lists for the Nordpolen voyages ending at Quebec in any of those archives.
Timeline to records.
In 1852 she departed from Grimstad May 17th, and arrived at Quebec July 16th. Her tonnage was given to be 176,5 Commercial lasts. No known existing passenger list, see above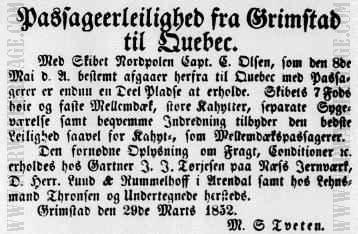 Newspaper announcement from "Den Vestlandske Tidende" March 30th 1852; Passenger accommodation from Grimstad to Quebec. With the ship Nordpolen, Capt. C. Olsen which is scheduled to sail from Grimstad to Quebec with passengers there are still available space. The ships
steerage
is 7 feet high, and has a permanent
between deck
. The ship also has big cabins and a separate ward. It is fitted in the most comfortable way for the passengers and can take both cabin and steerage passengers. More information can be obtained with Gardener J. J. Tørjesen at Næss ironworks, Lund and Kummelhoff in Arendal and at Sheriff Throndsen and undersigned here in Grimstad. Signed by M. S Tveten.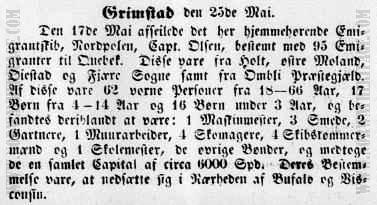 Notice from the newspaper "Den Vestlandske Tidende" June 1st 1852; Grimstad May 23rd. The emigrant ship "Nordpolen" mastered by Capt. Olsen, left Grimstad with 95 emigrants on May 17th for Quebec. The emigrants came from Holt, Østre Moland, Øiestad and Fjære, also from Ombli parish. Among these were 62 adults 18 - 66 years old, 17 children 4 - 14 years old and 16 children under the age of 3. Among the passengers were one Engine Master, 3 blacksmiths, 2 gardeners, 1 bricklayer, 4 shoemakers, 4 ship carpenters and one school master. The rest were farmers. All together they brought with them about 6000
Speciedaler
. Their final destination was in the Buffalo and Wisconsin areas.
The 1852 passengers wrote a letter home to say how pleased they were with the accommodations aboard the ship.
"We, the undersigned emigrants, from Nedenæs and Robygdelaugets municipality in Norway, hereby declare that we in every way are contented with the voyage, as the ship is well equipped, has a high and spacey between deck, and is a good passenger ship. The Nordpolen of Grimstad, mastered by Capt. Christian Olsen left this town on May 18th [!] and anchored in Quebec on July 16th, after about 8 weeks at sea. The Captain is a very good seaman, he also has a great love for people, he is nice, service minded and proper."
The Nordpolen stranded and was wrecked in 1879 at Horns Rev, 1 person died.