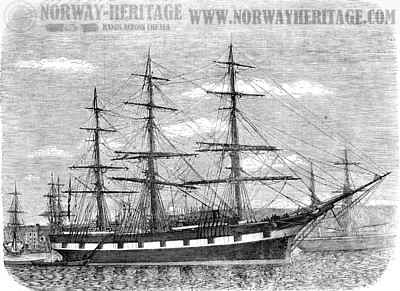 Superior (ex Augustus), Norwegian emigrant ship.
Support Norway Heritage: Purchase a copy
The Superior was an ex American vessel by the name of "Augustus". Built in Bath, Main, USA. Tonnage was 808 gross. She was owned by the Rød brothers of Tjøme. In 1866 the Superior departed from Christiania Apr. 24th, and arrived at Quebec June 13th. She was sailing in ballast, and was carrying 487
steerage
passengers and 1 cabin passenger. 9 of the passengers died from debility, measles and varioloid on the voyage. When the ship arrived at the quarantine station at Gross Île, 8 of the passengers were sick. The Superior was detained in quarantine from the 9th of June till the 12th of June. When discharged from quarantine she proceeded to Quebec, where she arrived on June 13th. The ship was mastered by Capt. Rød, and had a crew of 17. In 1866 Superior was also announced to New York in Sept./Oct.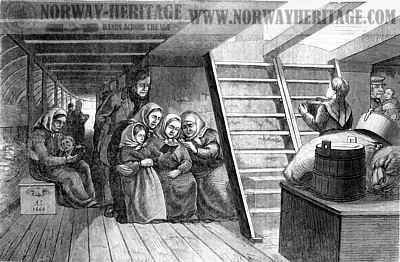 The
between deck
of the Superior 1866
Support Norway Heritage: Purchase a copy