A shipping family of five brothers specialized in the emigration trade between 1860 and 1870. All five were ship captains, and the eldest, Thorvald Rød, was managing the family firm from Tjøme. The other brothers, Olaus, Bernhard, Ludvig and James were mastering the ships.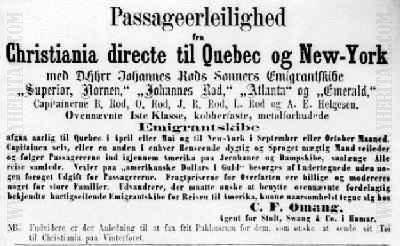 Newspaper announcement for the Rød shipping company
From the "Hamar Stiftstidene" 14th December 1867.
Note:
You can click the

icon to sort the table by different parameters.
Some companies may have had additional ships in their fleets to those mentioned above. They might not have been included if the ships were not engaged in the conveyance of emigrants. Some ships mentioned in the fleet lists may have been chartered from other companies, see the ship's description and history for more details.