Chapter 1:
Early Norwegian Emigrants

(By BÝrge Solem)

The great emigration from Europe to America is a dramatic part of our history. This large scale of emigration could never have taken place without a sufficient means of transportation. This article focuses mainly on the transatlantic journey. It is the story of how many emigrants going to America in the time between 1825 and 1925 would travel. It also gives some insight to the amazing development in how ships were constructed and the transportation arranged to meet the demands of the increasing number of people on the move. Even though this is mainly about the experience of Norwegian emigrants, the experiences and conditions of travel will be much the same regardless of the nationality.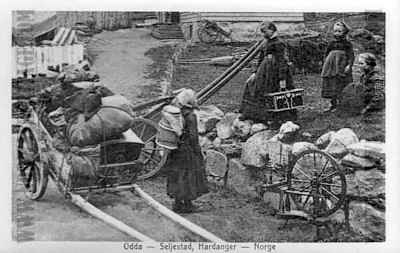 Emigrants leaving home
Support Norway Heritage: Purchase a copy
On July 5, 1825, the sloop Restauration set sail from Stavanger to New York. On board the overfilled vessel was a party of 52 persons including members of the crew, known to us today as the "sloopers." When the sloopers arrived at New York on October 9 -- following a fantastic journey -- their number was increased to 53. Although they were not the first Norwegians to emigrate to America, 1825 marks the beginnings of organized emigration.
The next two ships to ship to sail directly from Norway to America did not depart before in 1836. They were the brigs Norden with 110 passengers, and Den Norske Klippe with about 50 passengers. In the meantime, a number of Norwegian emigrants had made their way to America via other European ports such as Le Havre, Gothenburg and Hamburg. In the beginning, most of the Norwegian emigrant vessels were relatively small. The emigrants traveled on brigs and schooners. These usually took no more than 90 -- 150 passengers, but there were also a few larger ships. One of the smallest ships was the schooner Ebenezer mastered by Capt. Clausen of Stavanger. Passenger lists reveal that the ship had a ship's burden of 199 register tons. During the period between 1848 and 1853 the Ebenezer made five voyages from the port of Stavanger to New York, in 1849 with 74 passengers, in 1850 with 81 passengers, in 1851 with 75 passengers, and in 1853 with 85 passengers. In the years to follow the ships were bigger and bigger. During the 1860s and 1870s full-rigged ships and barks were used almost exclusively for the transpiration of emigrants. The full-rigged ship Maple Leaf, which sailed from Porsgrunn to Quebec in 1862, weighed 823 register tons. The ship was under the command of Captain Funnemark, and had 598 passengers on board during the transatlantic crossing.
The great majority of the Norwegian emigrants travelled as "steerage" passengers, something they had in common with emigrants of other nationalities.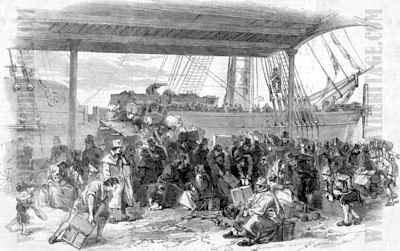 Steerage passengers embarking a ship at Waterloo docks, Liverpool in 1850 Support Norway Heritage: Purchase a copy

The Transatlantic Crossing - read more >>

- Chapter 1: Early Norwegian Emigrants
- Chapter 2: Steerage Passengers - Emigrants Between Decks
- Chapter 3: By sail across the ocean - daily life aboard
- Chapter 4: Children of the ocean - life and death on the Atlantic
- Chapter 5: Sailing ship provisions - Food and drink
- Chapter 6: Sanitary conditions on board - health and sickness on emigrant ships
- Chapter 7: From sail to steam
- Chapter 8: The largest, the fastest and most comfortable ships - by steamship across the ocean
- Chapter 9: The giant express steamers - The transatlantic crossing following 1900