Year
Departure
Arrival
Remarks
1870
Launched for the Cunard Line on March 3
1870
Maiden voyage May 24, Liverpool-Queenstown-New York
1871
Outmoded by White Star's Oceanic class
1880
18 Sept. last Cunard voyage Liverpool-Queenstown-New York
1880
Returned to the builders
1880
Purchased by the Guion Line
1881
Liverpool
New York
May 27
1882
Fitted with compound engines
1882
Liverpool
Feb. 04
New York
Feb. 16
1882
Liverpool
Mar. 25
New York
Apr. 05
1882
Liverpool
June 03
New York
June 16
1883
Liverpool
New York
Apr. 25
1883
Liverpool
May 19
New York
May 30
1885
Liverpool
July 18
New York
July 28
1887
Operated by CPR on Vancouver-Hong Kong-Japan route
1891
Last CPR voyage Vancouver-Hong Kong-Japan route
1891
28 Nov. resumed Liverpool-Queenstown-New York service, arrived NY Dec. 11
1891
Dec. 13: departed New York for Liverpool, Capt. Murray
1891
Dec. 18: destroyed by fire in lat. 47 N., long. 44 W., passengers and crew rescued by the NDL steamer Spree
The information listed above is not the complete record of the ship. The information was collected from a multitude of sources, and new information will be added as it emerges
Details: straight stem, 1 funnel, 3 masts (rigged for sail); iron construction, single screw propulsion, service speed 13 knots; accommodation for 120 passengers in 1st class, and 1068 passengers in the steerage. She could be transferred to a troopship taking 2 battalions of soldiers. There was a male and female hospital on the ship, distilling apparatus which could produce 2000 gallons of fresh water daily, and holds for 80000 cubic feet of cargo and 1200 tons of coal. The Abyssinia was the sister ship of the Algeria, they were the first Cunarders fitted with bathrooms. The bathrooms were situated so that there was one at the port side and one at the starboard side, for obvious reasons the bathhroom at the leevard side would be preferable when the wind was strong.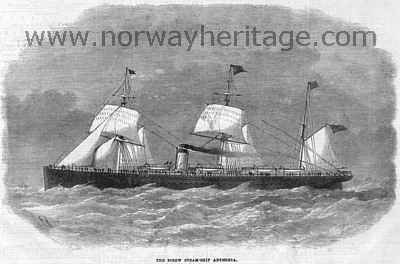 Support Norway Heritage: Purchase a copy
ABYST