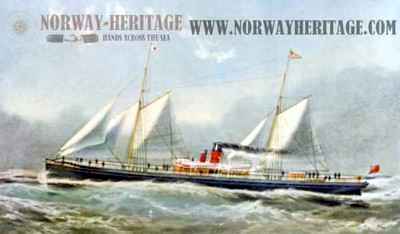 S/S Hero
Support Norway Heritage: Purchase a copy
The S/S Hero (2) was built in 1866 at C. & W. Earle's Shipbuilding in Hull. She had a tonnage of 1034 tons gross, 1025 under deck and 671 tons net. She was an iron construction with a single screw and schooner rigged. She had 2 decks, 2 bulkheads and 3 partial bulkheads. Her dimensions were: 229.3 feet long, 30.6 feet beam and holds 20.8 feet deep. Propulsion:
compound engine
with 4 inverted cylinders of 27 and 47 inches diameter each pair, stroke 30 inches. This engine delivered 180 horsepower. In 1873 the engine was compounded, and new boilers were fitted in 1874. The engine was built by C. D. Holmes in Hull.
From 1876 she was on a regular route between Hull and Christiania and Christiansand. In July of 1871 the Hero's return cargo from England consisted of the first steam locomotive for the new Lillehammer railway to Norway. The wagons had arrived one moth earlier. The wagons had arrived one moths earlier. On October 15th, 1875, the S/S Hero could not make the call at Christiansand because of rough seas and a severe storm. Some of the passengers had embarked at Christiania for Christiansand, but had to follow the ship all the way to Hull.
The Hero served on the Christiania - Christiansand - Hull route till 1881, when she was placed on the Trondheim - Hull route. The route between Trondheim and Hull was maintained by Hero and
Tasso
as main ships till 1884. In 1884 Hero took the majority of all the passenger from Trondheim, and maintained the route with sporadic help from other steamers of the line. The S/S Hero carried out this service until 1888. From 1889 she maintained the route along with
S/S Cameo
. The Hero appeared in Trondheim for the last time in 1892. On June 22nd, 1895 she was badly damaged in a collision with the Lamport & Holt ship "Bessel" in the English Channel. She was sold to Earle's who subsequently sold her for scrap.
Sources:
[The Wilson Line of Hull, 1831-1981 by A.G.Credland & M.Thompson][Lloyd's register of shipping][Trondhjems adressecontors efterretninger 1866-1892][Trondhjem Police Emigration Records 1866-1892][Morgenbladet 1866-1892]